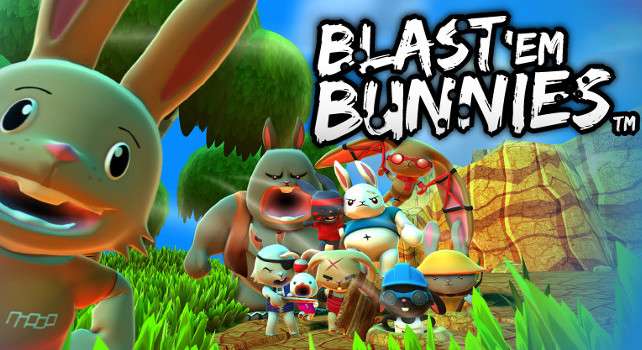 Nnooo announced yesterday that they are bringing The Legend of Kusakari to the 3DS eShop in the near future, but they are also bringing another game to the eShop on March 10th. Enter Blast Bunnies.
In the game you'll be challenged to defend your burrow from a horde of evil bunnies. Pick them off using your carrot rifle, a watermelon pip machine gun or a runner bean laser. You'll also have a turnip mortar to do maximum splash damage.
These crafty cottontails come in all shapes and sizes. Some of them can even fly, so you'll need every weapon in your armoury to deal with this barbarous band of bitter bunnies. How they became evil, where they came from and who taught them to fly remains a mystery. But there's no time to ponder these rabbit riddles, just grab your favourite weapon and…Blast 'Em Bunnies!
The game will be launched on the PS Vita and PS4 on March 8th in the Americas and on March 9th in Europe, Australia, and New Zealand. The game will be released on March 10th for the Nintendo 3DS and on March 11th on Xbox One. The game is planned to retail for $4.99 USD / €4.99.
The game will also feature some add on content. The base game comes with one arena and the standard set of bunny skins, and you can get the whole gameplay experience with this one purchase. However you can customise your experience with the add on content, including more arenas, skins, permanent multipliers and weapon unlocks.
There are 5 additional arenas priced at $2.99 USD / €2.99 each and each arena comes with a brand new arena, 3 new music tracks and a full day to night system. You can also customise the enemy bunnies by purchasing one of 5 skin packs. Each skin pack contains 3 new skins for each enemy bunny and are priced at $1.99 USD / €1.99. There are also multipliers and weapon unlocks available for purchase, which will allow you to progress more quickly through the game than normal.
The skins and arenas will also sold in a variety of bundles.