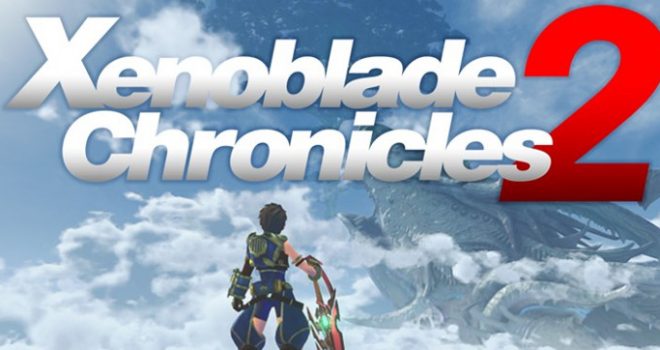 Xenoblade Chronicles 2 – Lost in a sea of clouds, entire civilizations rest on the backs of Titans. As the giant beasts march toward death, the last hope is a scavenger named Rex – and Pyra, a living weapon known as a Blade. Can you find the fabled paradise she calls home? Command a group of Blades and lead them to countless strategic victories before the world ends. Each Titan hosts its own distinct cultures, wildlife and diverse regions to explore. Search the vast open areas and labyrinthine corridors for treasure, secret paths and creatures to battle and index. The Xenoblade Chronicles 2 game will be available on Dec. 1.
Xenoblade Chronicles 2 – Expansion Pass
 – If you own the 
Xenoblade Chronicles 2
 game and buy this Expansion Pass, you'll gain access to some titanic new content, including new story content in fall 2018! On Dec. 1, the Helpful Item Pack will roll out, with the New Quest Pack opening up in January. Plus, the New Rare Blade Pack will be added to the game in spring, with the New Challenge Mode Pack next summer.
Xenoblade Chronicles 2 – Free Japanese Voice Pack – On launch day (Dec. 1), after downloading a free software update, users will have the option to download a free DLC pack that will allow players to play the Nintendo Switch game with Japanese audio and English subtitles.
Nine Parchments
 – 
Nine Parchments
 is a co-op blast-'em-up game of magic mayhem. The game combines real-time spell-shooting action with RPG elements. Level up your character and collect magical loot, filling your wardrobe with myriad wizard hats and powerful staves. The 
Nine Parchments
 game launches on Dec. 5.
Also New this Week

Draw a Stickman: EPIC 2 – Get ready for your most creative adventure yet! Imagination is the key, as you enter a magical storybook land full of mystery and wonder, unusual creatures and enigmatic puzzles! Create your own original stickman and then watch it come to life in DRAW A STICKMAN: EPIC 2! Challenge yourself to unlock every secret, collect every drawing and share your creativity with the world!

Bomberman '93 – Bomberman '93 is the exciting, powered-up version that followed the original Bomberman! With 6 rounds, each containing 8 stages, the single-player Normal Mode provides all the fun you can handle in its 48 different stages! Blast all of your enemies and find the hidden exit within the time limit to progress to the next stage. The "kick" function appears for the first time in this version of Bomberman, and you can really start using cunning tactics in your game play! Make the most of the traps and the new items to beat the game with a perfect record!
BATTLE LODE RUNNER – Enjoy Battle in a number of different ways! Gold funds have been stolen from the Time Machine Research Center, and the group responsible used a time machine to escape and hide the gold throughout time. The center sends an elite team of "Runners" to go and retrieve the gold. This upgraded edition to the famous Lode Runner series includes a 5-player versus mode.
Activities

:
Happy December! (available on Dec. 1) – The holiday season is right around the corner, and we're celebrating all month long with Mario games. Redeem your My Nintendo points and get discounts on favorites that the whole family can enjoy:

30 percent discount on Mario & Luigi: Dream Team (Nintendo 3DS)

30 percent discount on Mario Tennis: Ultra Smash (Wii U)

50 percent discount on Super Mario Bros. 3 (Nintendo 3DS / Wii U)

50 percent discount on Super Mario RPG: Legend of the Seven Stars (Wii U)

40 percent discount on Super Mario Maker (Wii U)

You can also redeem your points and get these full DLC packs for the Mario Kart 8 (Wii U) game*:

Mario Kart 8 DLC Animal Crossing

You can still redeem your points for these festive Mario rewards, too:

Mario Nintendo 3DS HOME menu theme

And finally, don't forget to stop by Play.Nintendo.com during the holidays for tips about how to create your own Cappy ornament and Toad garland – the perfect additions to that gaming-themed tree.
Xenoblade Chronicles 2 Wallpaper – To celebrate the launch of Xenoblade Chronicles 2, My Nintendo is offering a special December calendar and wallpapers featuring imagery from the game. Redeem your My Nintendo points for these rewards:

Xenoblade Chronicles 2 – Kingdom of Uraya Wallpaper

Xenoblade Chronicles 2 – Argentum Trade Guild Wallpaper

Xenoblade Chronicles 2 – Argentum Trade Guild December 2018 Calendar

Nindie Game Gold Point Rewards Vol. 2 – Got Gold Points? Get select games! This holiday season, My Nintendo users can redeem Gold Points for some of the hottest indie games on Nintendo platforms. For a limited time, redeem points to download select Nintendo 3DS and Wii U games from talented independent developers. Users will receive a download code that is redeemable in Nintendo eShop.
Nintendo eShop sales

:
Nintendo eShop on Wii U and Nintendo 3DS
Up to 75 Percent off Select Games with Nintendo eShop Cyber Deals– Treat yourself this holiday season with big savings on select digital games. Shop on Nintendo.com or in Nintendo eShop on your Nintendo Switch, Wii U or Nintendo 3DS family system to purchase and download games to play over the holidays. My Nintendo members also earn Gold Points on qualifying digital purchases, so it's a win-win. The sale runs through 8:59 a.m. PT on Dec. 11.