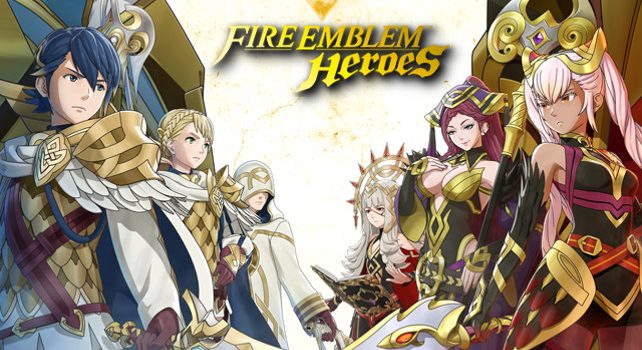 Nintendo's mobile game Fire Emblem Heroes will soon be updated to version 2.1.0, with said update coming on February 7th, 2018. There are quite a few updates coming to the game. Check them out below.
Upper Limit on Hero Merit Raised
The upper limit on Hero Merit has been raised from 3,000 to 4,000. If you've already reached the upper limit with your favorite Heroes, you can once again earn Hero Feathers by taking them into battle.
Check Maps before Battle!
A new option to check the map layout before entering battle has been added. From left to right, the icons allow you to edit your team, check the map, and check related quests. You can also check map layouts in Special Maps. Use this to your advantage to plan a strategy before heading into difficult battles. Please note that this new feature cannot be used in the Arena.
New Arena Maps, New Terrain
New maps will appear in the Arena starting with the season that begins on January 16th, 2018 at 2:00 am ET. Some of the new maps include a new terrain type: trenches. Cavalry Heroes can move only one space in trenches. Trenches will also appear in future maps, if appropriate to their themes. We hope players who love teams of cavalry Heroes and players who have struggled against cavalry Heroes will come up with new strategies for these new maps.
Other Changes
New Options in the Weapon Refinery
Additional Sacred Seals
Skills unique to a specific Hero will now display the text, "This skill can only be equipped by its original unit."
Be aware that some weapon skills will only be able to be equipped by the original unit and therefore cannot be inherited by another Hero.
Icons have been added to the skill descriptions of non-weapon type skills to indicate when the skills cannot be equipped by units of certain weapon or movement types.
When equipping or changing Sacred Seals, you can now opt to start by selecting a Sacred Seal first or selecting a character first.
Starting with the next Voting Gauntlet, Heroes without an equipped weapon skill will not appear as enemies or allies.
A status bar will appear now in the upper portion of the screen while playing on iPhone X.
Bug Fixes
Prerequisites related to skill inheritance and weapons upgraded with the Weapon Refinery have been corrected. Weapons where the name changes after upgrading, like Slaying Edge+ or Guard Bow+, can now be inherited with the correct preupgrade Weapon skill as a prerequisite.
Fixed bug on devices running iOS 11 where the descriptions that appear when tapping a Hero's name or skill icon at the top of the screen would immediately disappear.