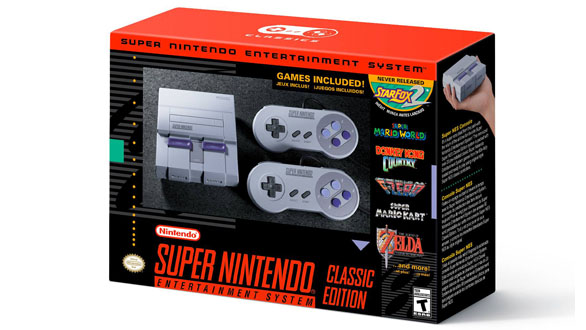 Nintendo made the announcement just moments ago that indeed there will be a SNES Classic! Rumors and speculations have been circulating lately but thankfully Nintendo has confirmed the systems existence. What a great set of games too including the officially unreleased game, Star Fox 2!
"While many people from around the world consider the Super NES to be one of the greatest video game systems ever made, many of our younger fans never had a chance to play it," said Doug Bowser, Nintendo of America's Senior Vice President of Sales and Marketing. "With the Super NES Classic Edition, new fans will be introduced to some of the best Nintendo games of all time, while longtime fans can relive some of their favorite retro classics with family and friends."
The SNES classic will be released September 29th and is listed as being $99.99 CAD.
Here are the included games:
Contra III: The Alien Wars™
Donkey Kong Country™
EarthBound™
Final Fantasy III
F-ZERO™
Kirby™ Super Star
Kirby's Dream Course™
The Legend of Zelda™: A Link to the Past™
Mega Man® X
Secret of Mana
Star Fox™
Star Fox™ 2
Street Fighter® II Turbo: Hyper Fighting
Super Castlevania IV™
Super Ghouls 'n Ghosts®
Super Mario Kart™
Super Mario RPG: Legend of the Seven Stars™
Super Mario World™
Super Metroid™
Super Punch-Out!! ™
Yoshi's Island™