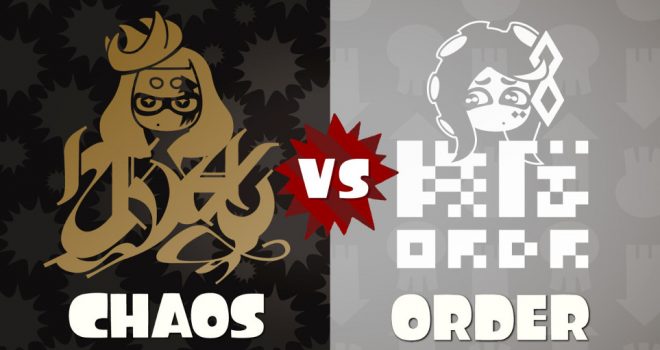 It's been two years since the launch of Splatoon 2, and the very last Splatfest is on the horizon. This final Splatfest asks "Which world would you choose? Chaos or Order?"  
Will you fight for a world of chaos, with an ever-shifting blur of boundaries and borders, where the only path through the confusion is that which you carve out for yourself? Or will you battle for a world of order governed by an unwavering discipline, in which your path toward a promised future is straight and well-paved? The time has come and the choice is yours!
This Splatfest will be a 72 hour event running from July 18th at 8:00am ET until July 21st at 8:00am ET, wrapping up exactly two years from the game's initial launch.
In addition, a new Shifty Station stage will be added for this Final Splatfest, and all 23 of the previous Splatfest-specific stages will be making a reappearance, too. The 23 previous stages will surface in a constantly…shifting rotation for the first 48 hours, with the new stage making its debut for the final 24 hour period. This is just the chance to relive all your favorite Splatfest battle memories!
Nintendo will also be releasing some special gear to go along with the final Splatfest. Each side will see two pieces of unique headgear inspired by the themes of chaos and order, for a total of four!
Following the Final Splatfest in late July, the Version 5.0.0. Update is planned for release. This update will add the "Turf War (Splatfest)" option to Private Battles, allowing you to battle it out on any of the 24 Shifty Station stages.
Playing in "Turf War (Splatfest)" will also cause all 23 of the normal stages to appear in all their nighttime Splatfest splendor! You'll also be able to select team ink color combinations from all those used in previous Splatfests. Get together with your friends and host a private Splatfest-themed party of your very own!