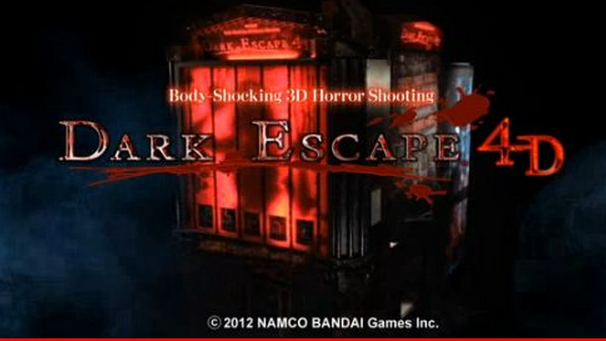 It's been ages since I've been to an arcade, which is partially because all of the video game arcades around me have dissapeared in recent years. While there used to be two within a short bus ride, the closest one to my house is now a 45 minute drive away to Niagara Falls!
The fall of the video game arcade is made even tougher to swallow with the revelation of a new arcade from Namco Bandai called Dark Escape. The machine is a first person 'on rails' zombie shooter, which in itself is nothing new. What is new is all of the atmospheric elements they are adding to the experience.
Dubbed a '4D' game there is more than just the typical shooter fare to enjoy for sure. 3D zombies, surround sound, vibrating chairs, blasts of air to simulate movement around you and more make this seem like a thrilling experience. the game even monitors your heart rate during the game to see how scared you are.
Namco is definitely pushing the arcade gaming experience.
"NAMCO's newest arcade game, Dark Escape, will have your heart pounding from the beginning to the end. This new 3D arcade game will have players facing their biggest phobias through five fear-themed levels. You don't just see the terror, you experience it with air blowers in the front and back of the seat. Vibrations in both the seat and gun make this a truly unique horror game. Try to stay calm as panic sensors on the gun display the player's heart rate. Can you make it out alive or will the fear consume you? Coming soon to an arcade near you."
Take a look at a video trailer of the upcoming machine and decide for yourself. This game looks like like fun. Could you survive?