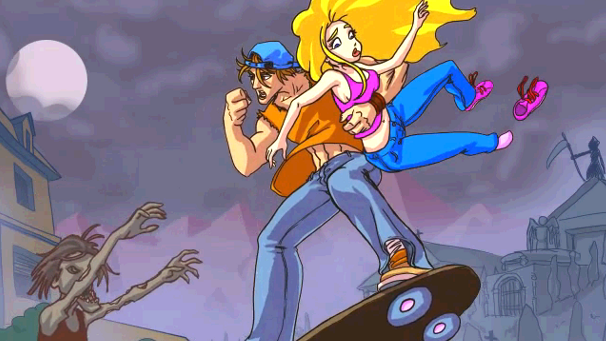 Nintendo has released TONS of new games on their download service Thursday, including new DSiWare titles, 3DS eShop games, demos, virtual console, Wii U full game downloads, demos and even a Wii Virtual Console game. Oh my lots to see and do this week!
Nintendo 3DS eShop
CRIMSON SHROUD
Role-Playing | LEVEL-5 International America, Inc. | Rated:T | $7.99
LEVEL-5 and Yasumi Matsuno have brought together the industry's most venerated creators in the world of RPGs to take up the challenge and lend their support to the production of CRIMSON SHROUD. A tribute to the table-top RPG, crucial decisions hinge on the roll of a die. Players roll dice in real time and chain skills together to earn bonus dice of greater and greater face value. Use your dice strategically though, or your foes may yet get the best of you! Follow the tale of a young "Chaser" named Giauque, as he and his team find themselves drawn into the mystery of the Original Gift, the Crimson Shroud. A bold new adventure awaits!
Gardenscapes
Puzzles, Strategy | Joindots GmbH | Rated:T | $7.99
Accept your inheritance and leave the gray city life behind – escape to the countryside! But … what on earth? Your grandfather's once beautiful garden has decayed. And you don't have any money. His old house's many rooms are crammed with all sorts of odds and ends, though. So you get to work, selling the stuff. News of your project spreads fast, and soon it's even in the paper.
Nintendo 3DS Full Game Download
Adventure Time: Hey Ice King Why'd you steal our garbage?!!
Action, Adventure | D3Publisher of America | Rated:E-10
Finn and Jake wake up one morning to find their trash stolen by the Ice King! Jake couldn't care less about half-eaten bananas and old chicken diapers – but when the Ice King uses these stolen goods to construct a Garbage Princess, our heroes embark on an adventure and teach him a lesson! Journey through the Land of Ooo in an offbeat adventure to discover perilous dungeons, unimaginable treasures, the true meaning of friendship, and never-ending fun!
Nintendo 3DS Demos
Art of Balance TOUCH!
Puzzles, Stategy | Shin'en Multimedia | Rated:E | FREE
Grab your stylus and build a balanced stack in this physics-based puzzler! Puzzle games must be addictive. This was our top priority during the development of the game. That's why we designed 200 levels that not only challenge your skills but also your imagination. With its perfect touch controls Art of Balance TOUCH! is easy to pick up and hard to put away.
Nintendo 3DS Virtual Console
Ninja Gaiden
Arcade, Adventure | Tecmo Koei Games Co., LTD. | Rated:E | $4.99
Players take the role of Ryu Hayabusa, a rising warrior in his family's clan whose main role in the world is to protect the Dark Dragon Blade from getting into the hands of evil. Ryu Hayabusa travels to America to seek vengeance for his father's death. Player's fight their way through ten challenging side-scrolling levels while defeating gangs of street thugs, battling evil ninjas, and fighting barbarian bosses by using the deadly Dragon Sword, ninja skills, and ninja magic. Players can run, crouch, jump, and climb as they make their way through each stage and collect items to gain points, strength, and weapons.
Nintendo Wii U Full Game Download
Sonic & All-Star Racing Transformed
Action | SEGA; SUMO Digital | Rated:E-10
Sonic & All-Stars Racing Transformed™ is changing the rules with a new thrilling racing experience featuring Sonic the Hedgehog and a fantastic cast of SEGA All-Stars competing across land, sea and air in vehicles that fully transform from cars, to boats, to planes. Following on from the huge success of Sonic & SEGA All-Star's Racing, the characters now have their own unique transforming vehicles designed to take advantage of the varying terrain. The line-up on the Sonic & All-Stars Racing Transformed grid sees SEGA favorites – including Sonic the Hedgehog, Dr Eggman and AiAi – return to battle against newcomers that include Gilius Thunderhead of Golden Axe and Vyse of Skies of Arcadia.
Batman: Arkham City Armored Edition
Action, Adventure | Warner Bros. Interactive Entertainment | Rated:T
Batman: Arkham City is based on DC Comics' core Batman license and is set in Arkham City, the new maximum security "home" for all of Gotham City's thugs, gangsters and insane criminal masterminds. Featuring an incredible Rogues Gallery of Gotham City's most dangerous criminals including Catwoman, The Joker, The Riddler, Two-Face, Harley Quinn, The Penguin, Mr. Freeze and many others, the game allows players to genuinely experience what it feels like to be The Dark Knight delivering justice on the streets of Gotham City.
Nintendo Wii U Demos
RAYMAN LEGENDS
Action, Adventure | Ubisoft | Rated:RP
Rayman, Globox, and the Teensies are off wandering through an enchanted forest when they discover a mysterious tent filled with a series of captivating paintings. As they look more closely, they notice each painting seems to tell the story of a mythical world. While focusing on a painting that shows a medieval land, they are suddenly sucked into the painting, entering the world, and the adventure begins. The gang must run, jump and fight their way through each world to save the day and discover the secrets of every legendary painting.
Nintendo DSiWare
Chuck E. Cheese's Alien Defense Force
Action, Adventure | UFO Interactive Games | Rated:T | 500 points
Chuck E. Cheese's Alien Defense Force needs you! The evil king of Planet Cheese is trying to steal all of Earth's pizza, and heroes are needed to protect it! Do battle with the aliens with Chuck E. and his trusty water blaster or Mr. Munch and his water balloon. Four menacing aliens guard the entrance to lair of the King of Planet Cheese. Those aliens will be no match for Chuck. E. and Mr Munch's mighty arsenal once the power of the splash combos are unleashed! Go forth cadet and save Earth's pizza! Also available for 3DS eShop for $4.99.
Rytmik World Music
Party | CINEMAX | Rated:E | 800 points
Pocket music station. Library of more than 180 sound samples. Rytmik World Music is an application for creating rhythmical and melodic themes and for composing whole songs. Library contains 117 carefully picked authentic sounds of ethnic drums, percussions, plucked, mallet, bowed and wind instruments, complemented with a selection of synth drums, basses and pads, creating together a strong and creative mix of sounds and rhythms for your compositions not just from the sphere of world music. Compositions being played are visualized on the upper screen in the classical demoscene style with 20 types of visualization to choose from. Also available for 3DS eShop for $7.99.
Zombie Skape
Action, Adventure | EnjoyUp Games | Rated:E | 200 points
Escape from a Zombie invasion Ethan was Skateboarding in the park as usual. He practiced a lot every evening. His dream was to become number 1, and imitate his great idol "Johnny Eagle", the best skater of all times. One night, as he practiced, something strange was happening… Without knowing why, Ethan was surrounded by lots of Zombies. It was a nightmare. Now he will have to put everything he has learned through Skateboarding into practice to survive. Also available for 3DS eShop for $1.99.
Wii Virtual Console
REAL BOUT FATAL FURY
Fighting | D4 Enterprise | Rated:T | 900 points
Real Bout Fatal Fury was first released in 1995, and is the 5th installment in the fighting game series. While based on the previous games, this version saw the incorporation of an independent Sway Button, and the introduction of a more evolved Combination Attack system and the Ring Out component, making for speedier and more enjoyable gameplay. Real Bout Fatal Fury features 16 playable fighters including, the Qin brothers (the boss characters from the previous installment), as well as user-favorites Billy Cane and Duck King. Cut through the ruthless competition and aim for the top!
Nintendo adds new titles to the Nintendo eShop for the Nintendo 3DS™/Nintendo 3DS XL system, to the Nintendo DSi™ Shop for the Nintendo DSi system and to the Wii™ Shop Channel for the Wii console at 9 a.m. Pacific time on Thursdays.