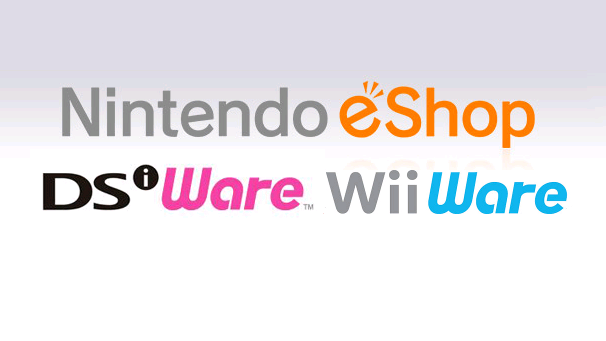 Nintendo has released TONS of new games on their download service Thursday, including new DSiWare titles, 3DS eShop games, demos, virtual console, Wii U full game downloads, demos and even a Wii Virtual Console game. Oh my lots to see and do this week!
Nintendo 3DS Virtual Console
Wario Land 2
Action, Platformer | NintendoDeveloper | Rated:E | $4.99
What kind of no-good ruffians would break into my castle and steal my treasures?! It's that rotten Captain Syrup and the Black Sugar Gang! I'm looking out for bad guys and scavenging for coins as I track down my treasures. If I don't get them all the first time, that's OK. I can go back again and again until I find them all. Captain Syrup doesn't stand a chance against me! With lots of hidden treasures, bonus games, and multiple endings, we're in for our own voyage of discovery!
Nintendo 3DS eShop
escapeVektor
Action, Adventure | Nnooo| Rated:E | $9.99
Vektor has been trapped inside the CPU for what feels like an eternity and you are his only hope of escape. As he travels through the CPU, help him recover his memories and destroy the different enemy types sent to hunt him. But be careful, the further Vektor gets, the more devious the CPU becomes! There is a whole world to uncover within your CPU! Hiding away are 150 levels (nodes), 27 worlds (zones) and 4 unique abilities to unlock and upgrade. With Vektor providing you with; Detonate to destroy enemies, Boost and Super Boost to out run them and Boostenate to smash your way through, you are sure to be able to help him escape!
3D Game Collection
Puzzles, Strategy | Joindots | Rated:E | $5.99
Play a round of Sudoku, do a relaxing puzzle or make the other player's ships sink to the bottom of the sea. A grand total of 25 game types in three magnificently themed worlds provide plenty of variety and lots of fun. Accept the challenge and try to collect all the trophies. But be warned – it won't be easy! Every game learns and adapts to your abilities! These are the game types: 4 in a row, Backgammon, Bingo, Card Solitaire, Checkers, Chest Mover Mania, Chinese Checkers, Code Cracker, Dice Five, Domino, Find Mines, Find Pairs, Jigsaw Puzzle, Kakuro, Ludo, MahJongg, Match 3, Nine Men's Morris, Peg Solitaire, Pipe Shift, Ship Encounter, Sliding Puzzle, Spot the Difference, Sudoku and Token Wangle. The first games collection for Nintendo 3DS in eShop! 55 x fun for the entire family! Round up all the available trophies to be declared the winner!
PIX3D
Puzzles, Strategy | Gamelion | Rated:E | $3.99
One thousand levels, 3 different game modes. Battle against time and get the highest score in the greatly-addictive pix puzzle game – PIX3D. Imagine a picture. A simple picture. A pix art picture. Now break it down to every single pixel. That's a colorful mess, huh? So PIX3D is about fixing that mess to reproduce a beautiful pixel art picture. It's challenging, addictive and it piques your curiosity. With finely-tuned controls, using the stylus or Circle Pad, simple but amazing graphics and retro 8-bit music, the game introduces us to its unique world. Enjoy three different modes, fight against time and show the world how PIX3D you are!
Riding Stables 3D
Simulation | TREVA Entertainment | Rated:E | $29.99
An exciting 3D horse adventure awaits you! Which family will win the coveted pasture? What is the big secret that will force someone resort to illegal practices? Immerse yourself in this gripping tale of true friendship and sinister plots. Train the ranch horses, take good care of them, and prepare for the final deciding tournament. Experience riding events like show jumping and mounted archery in first-person view. Enjoy 11 mini games with tasks like longing, teaching tricks, feeding and grooming. Get to know the 15 in-game protagonists and master more than 30 tasks. Design your own horse by choosing from 26 breeds, selecting coat, mane and much more.
Nintendo 3DS DLC
New Super Mario Bros 2
Action, Adventure | Nnooo | Rated:E | $2.50 each
Feel the rush with two new downloadable Coin Rush course packs. The "Mystery Adventures Pack" and "Impossible Pack" are now available for purchase from the New Super Mario Bros. 2 in-game shop.
Nintendo DSiWare
Anonymous Notes Chapter 3 – From The Abyss
Action, Adventure | Sonic Powered Co. | Rated:E-10 | 200 Points
It's a real action RPG with preeminent exhilaration set inside an infinitely-extending dungeon. Sweep away the monsters wriggling in many places and get at defeating a strong boss monster lurking at the deepest portion of the dungeon. Even after the boss monster is defeated, the dungeon re-creates itself with automatic system so the player can try new games over and over. Using the skill called "Soul Capture," the mail character can take away the magic and other skills from the monsters, as well as weapons and shields to power up. It is very exhilarating to strengthen the character combining the equipments and skills, then crushing the monsters in a sweep. The player can enjoy a simple and yet profound world of From The Abyss, " Anonymous Notes." The items, skills, and the magic collected in Chapter 2 can be shared between other titles of this series. This title is also available on the Nintendo 3DS eShop for $1.99.
Cake Ninja: XMAS
Party | Cypronia | Rated:E | 200 Points
It is simple, fun and very popular game series! Slide the stylus across the screen to slice snowballs into small pieces like a true Ninja warrior. The more snowballs you slice, the longer you stay around, and the longer you survive, the higher your score. How long can you last? This title is also available on the Nintendo 3DS eShop for $1.99.
Castle Conqueror – Heroes 2
Puzzles, Strategy | CIRCLE Entertainment LTD | Rated:E-10 | 500 Points
Do you remember the war two years ago? This beautiful star, was a breathtaking Green Planet thriving with life, before it was devastated by the Empire's army. The inhabitants refused to remain silent any longer, so they rose up and fought back. After the inhabitants won a victorious battle over the Imperial army, a new government rose to maintain peace, and the army left the planet. This title is also available on the Nintendo 3DS eShop for $4.99.
Nintendo WiiWare
Vampire Crystals
Action, Adventure | SHANBLUE INTERACTIVE | Rated:E-10 | 1000 Points
Once upon a time… in a place called Creepyland,where zombies and vampires coexisted peacefully. Vampires kept the zombies well drained by sucking their blood and Zombies ate Vampires that died from old age or illness. But on a fateful day, all this changed… Demo also available.
Full Downloadable Games – Wii U
– Jeapardy!
– Wheel of Fortune
Full Downloadable Games – Nintendo 3DS
– Mario Tennis Open
– Pilotwings Resort
– Pokémon Rumble
– Bit.Trip Saga
Nintendo adds new titles to the Nintendo eShop for the Nintendo 3DS™/Nintendo 3DS XL system, to the Nintendo DSi™ Shop for the Nintendo DSi system and to the Wii™ Shop Channel for the Wii console at 9 a.m. Pacific time on Thursdays.