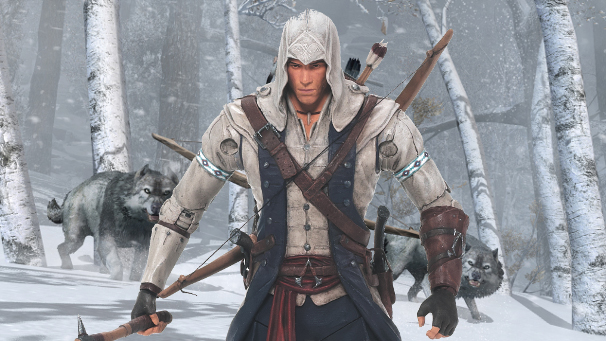 McFarlane Toys in partnership with Ubisoft announced today a licensing agreement to bring toys based on the Assassin's Creed series to store shelves.
McFarlane Toys' Assassin's Creed series 1 will consist of seven figures including the characters of Connor and Haytham Kenway. Connor will come as two action figures – one in his Assassin's Creed® III traditional Assassins garb and the second, as Ratonhnhaké:ton in the upcoming "Tyranny of King George" storyline. Each figure will be sculpted in the hyper-detail the award-winning McFarlane is known for with collectors and fans.
The figures will stand approximately six inches tall, include an average of 25 points of articulation, and will come with a unique code that unlocks exclusive Assassin's Creed video game content, like like new weapons, clothing colors, or other customization options.
"Features like this reward the hardcore fans who buy the figures, and give collectors some added value," Todd McFarlane, CEO and founder of McFarlane Toys, said.
"I'm always excited to work with a premiere entertainment company like Ubisoft. Their world-class studios have created some of the most compelling video games in recent memory," McFarlane said. "The Assassin's Creed series is a huge hit with gamers, and continues to grow in popularity. We're thrilled to have the opportunity to create high-quality collectibles based on their games, and to bring them to a wide audience at a reasonable price."
McFarlane Toys will be displaying a first look of the upcoming Assassin's Creed action figure prototypes at the International Toy Fair show, February 10-13, booth #4921.
"McFarlane Toys is renowned for their creativity, authenticity and incredibly detailed action figures," said Olivier Ernst, General Manager, Ubisoft Canada. "Ubisoft is proud to partner with Todd McFarlane and distribute these action figures in Canada. By offering high quality figures to our fans, we're extending their experience beyond video games while respecting the Assassin's Creed universe."
McFarlane Toys' Assassin's Creed action figures will arrive in stores this summer and will retail for $16.99.