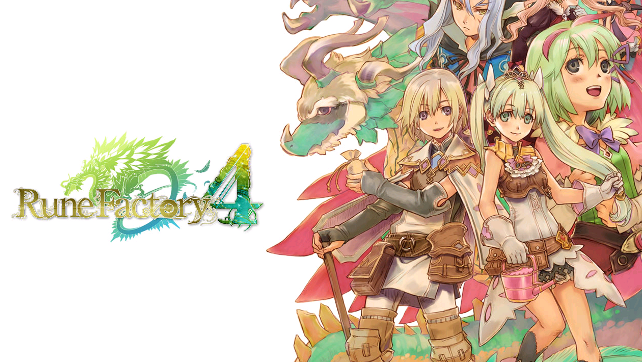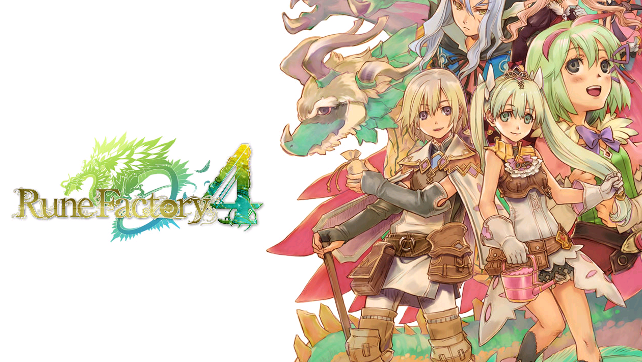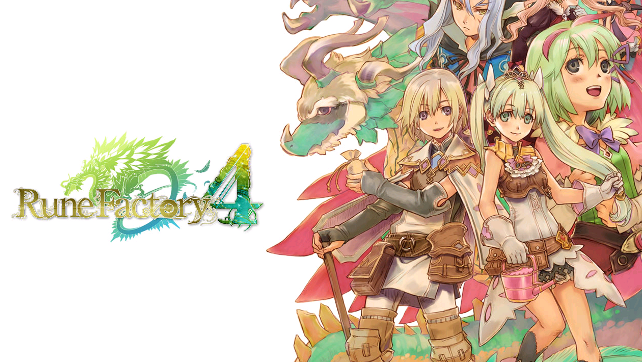 The Nintendo 3DS eShop is the focus again this week with a ton of new games available from full retail releases to new eShop titles.
Retail releases Etrian Odyssey Untold: The Millennium Girl and Rune Factory 4 both hit store shelves and the eShop this week on Monday October 1st. The titles join a bunch of new eShop games including Family Table Tenis 3D and Carps & Dragons.
Elsewhere the Nintendo Wii U gets another Virtual Console title with Donkey Kong 3 while the good ol' Nintendo DSi gets another DSiWare title in Astro.
Take a look at the full rundown of releases below.

[tabs tab1="Wii U" tab2="Nintendo 3DS" tab3="DSiWare"]
[tab]
Nintendo Wii U Virtual Console
Donkey Kong 3
Action, Adventures | Nintendo | Rated: E | $4.99
Donkey Kong has lodged in a greenhouse and it's bugging the bees out of Stanley!
Based on the third game in the enormously popular arcade series, Donkey Kong 3 introduces an exterminator named Stanley as he desperately tries to protect the flowers in his greenhouse from Donkey Kong. Armed only with a can of bug spray, Stanley must force Donkey Kong higher and higher into the greenhouse rafters until Donkey Kong is off the screen and the next stage is reached. But not surprisingly, Donkey Kong isn't going to move without a fight, so he sends wave after wave of bugs, bees, and other creatures toward Stanley. Not only must Stanley repel the insects in order to save the flowers, but he'll have to keep an eye out for projectiles thrown by Donkey Kong himself. If Stanley is good enough, he'll be able to grab a can of more powerful bug spray and really get Donkey Kong moving. It all adds up to frantic fun that anyone can enjoy!

[/tab]
[tab]
Nintendo 3DS Full Game Download
Etrian Odyssey Untold: The Millennium Girl
RPG | Atlus | Rated: T
Etria is a land that has long welcomed explorers…yet even they will discover stories untold.
Uncover the truth behind the labyrinth that swallows all. By choosing first to immerse yourself in Story mode, you will encounter the maiden who has lived a thousand years and the growing mystery that surrounds her past—a past that may affect the present and future of Etria.
Should you brave Classic mode, you will experience the beautifully upgraded version of the original Etrian Odyssey adventure, with new 3D graphics and gameplay improvements as seen in Etrian Odyssey IV, as well as a fully orchestrated BGM to accompany your journey. Scour through the dungeon's many layers and fend off the unknown to discover the truth behind the Yggdrasil Tree.
Choosing either mode will unravel the engrossing tale that signaled the start of the grand Etrian Odyssey series. How will the newest generation of explorers fare in unearthing Etria's latest tale? The title will be available on Oct. 1.
Rune Factory 4
Fantasy, RPG | XSEED Games / Marvelous USA, Inc. | Rated: E-10 | $39.99
Fall headfirst into a magical world! Dive deep into a brand new adventure in the Rune Factory series! Establish a new life in a new country, developing relationships, cultivating the land and adventuring with comrades on an epic quest that begins with a humble tumble. Designed for beginners and series veterans alike! The title will be available on Oct. 1.

Nintendo 3DS eShop
Carps & Dragons
Action, Adventure | Abylight | Rated: E
In this colorful pond getting lunch is not that hard for Jack and Walter, or is it? Look at those Carps just jumping out of the water! Aren't they a beautiful joy? But, what about the big bad Dragon watching over them? Play solo or with friends to "Carps & Dragons" frenetic action and solve all the challenging puzzles. Send your friends a Demo via the Nintendo 3DS Download Play. Key features: Authentic arcade action, 9 different levels, 32 challenges, Multiplayer game. 3 game modes: Arcade: Get the required points before the time runs out to pass to the next level. But be careful! Some crazy animals will not make it easy.Challenge: Will you be able to complete all 32 ability challenges? Fishtris: Catch and match 3 or more fishes of the same color to earn points and reach the next level. Watch out! If you accumulate too many different fishes you will lose the game.
Family Table Tennis 3D
Sports, Racing | ARC SYSTEM WORKS | Rated: E
A Fun and Casual Table Tennis Game. Smash Repeatedly and Feel Awesome! The all-new, fresh and exciting Family Table Tennis is finally here! The main characters are a family of 8 who are competing fiercely in the sport of Table Tennis across 6 epic stages. Masterfully utilize drives and chops. Learn how to knock your opponent off balance, and create opportunities to absolutely bombard them with one smash after another. Reign supreme over your adversaries like a true champion. In addition to the main game, there are 3 mini games, a brilliant illustration gallery, and 30 awesome, secret achievements to keep you preoccupied with a grin on your face.
Let's Ride: Best in Breed 3D
Simulation | TREVA Entertainment | Rated: E
Your dream has come true – Saddle up for fun!
Here's your chance to own and care for your very own horse. Create and care for your own horses, grooming and feeding them. Then it's time to take them out to practice their jumping skills.
– Raise your foals into beautiful horses to grow your stable.
– Perfect your skills at the jumping course.
– Choose from 25+ breeds and customize your horse with hundreds of different coat variations.
– Augmented Reality: Using the AR card you can now have your own cute foal right in your hand!
– StreetPass: Hold beauty contests with other nearby players and win cool in-game extras!
Mystery Murders: The Sleeping Palace
Action, Adventure | Microvalue / Virtual Playground | Rated: E
Uncover the dark secret behind the curse of the Laroche Palace
In a distant land there lies a mysterious palace known as Laroche Palace. The palace has stood for hundreds of years and it is rumoured to have been created by an ancient ancestor of the De La Roche family to defend his bloodline. There are many local tales of the supposed 'Curse of Laroche' which has over the years has seen many of its Kings fall mysteriously ill and turn mad.
You begin the game as Sophia Fay a young woman who has mysteriously awoken in a bedroom within the Laroche Palace. She has no memory of who she is, where she is or how she came to be there.
Discover why everyone within the Palace has been cast into a magical sleep and uncover the truth behind the mysterious 'Heart of the Palace,' a powerful force that resides over the palace to serve and protect the De La Roche family.
Help Sophia recover her memories, discover her Royal romance and uncover the dark secret behind Laroche Palace.
Paws & Claws: Pampered Pets Resort 3D
Simulation | TREVA Entertainment / NEOPICA | Rated: E
You love animals and they love you! Care for and pamper all of your favorite pets at your own Paws & Claws Pampered Pets Resort. Nurture and love the animals to grow your pet care business and become every animal's best friend!
– Be an entrepreneur! Use the profits from your pet resort to expand your business and grow your clientele.
– Lots of fun mini-games including shopping, predicures, fitness and vaccinations!
– Spoil your pets with relaxing spa treatments like acupuncture, aroma therapy, acupressure and massage.
Nintendo 3DS eShop SALES
BIT.TRIP Presents… Runner2: Future Legend of Rhythm Alien
Runner2 is the sequel to the critically acclaimed and IGF award-winning BIT.TRIP RUNNER, featuring five exciting worlds, 125 levels and five death-defying boss battles. Starting Oct. 1, download BIT.TRIP Presents… Runner2: Future Legend of Rhythm Alien for 33 percent off in the Nintendo eShop on Wii U until 9 a.m. on Oct. 7.
Shin Megami Tensei IV
Chosen by the Gauntlet, you are the Samurai who will explore paths of Law and Chaos and decide the fate of the world. Starting Oct. 1, download Shin Megami Tensei®IV for $10 off in the Nintendo eShop on Nintendo 3DS until 9 a.m. on Oct. 14.

[/tab]
[tab]
Nintendo DSiWare
Astro
Action, Adventure | Enjoy Gaming ltd. / 7 Raven Studios | Rated: E
At the dawn of the 30th century, the invention of the tachyon-reactor saw the beginning of the space age.
With small quantities of "Star Platinum," a mineral found in the asteroid belts, the tachyon-reactor could produce an immense amount of clean energy. This maintained interplanetary travel and the gigantic oxygen-generators required by the colonies. Human colonies appeared on all the 9 planets of the solar system.
In the Year 3187, a vast pirate fleet appeared out of hyperspace and caught us off guard. In a short time our defences were destroyed, leaving the area under pirate control. After numerous defeats it was decided to stop harvesting the "Star Platinum."
The pirate leader sent a final ultimatum right before destroying the last of our battle ships: "The only way for the federation to survive is to surrender."
– 18 unique enemies and bosses
– 8 different levels each with 4 sub-levels
– Easy, normal and hard modes PLUS insane mode unlocked by completing the game in hard mode!
[/tab]
[/tabs]
Nintendo adds new titles to the Nintendo eShop for the Nintendo 3DS™/Nintendo 3DS XL system, to the Nintendo DSi™ Shop for the Nintendo DSi system and to the Wii™ Shop Channel for the Wii console and games for the Nintendo Wii U console at 9 a.m. Pacific time on Thursdays.