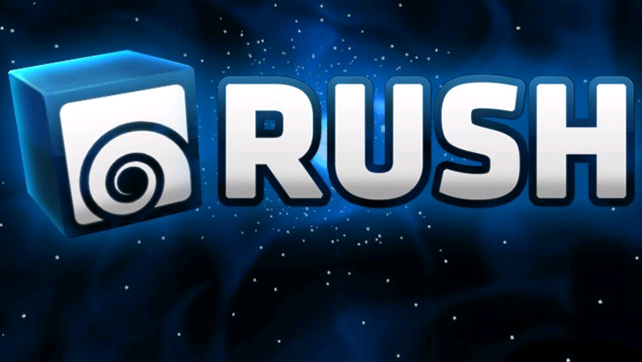 RUSH (Two Tribes) – Rated: E
RUSH is the third and last of the Two Tribes classics to arrive on Nintendo eShop. Other games in this range include 2D puzzle platformer Toki Tori and retro inspired platformer EDGE. In RUSH's fully three dimensional levels, players need to guide cubes to color coded exit points using Conveyor belts, Warps, Stops Signs, Splits and more! The game can be easily controlled with the stylus on your Wii U GamePad allowing your brain to fully focus on the solutions!
Off-TV gameplay supported, Unique 3D puzzle solving gameplay with Conveyor Belts, Warps, Stop Signs, Splits and more; Over 70 levels of increasing difficulty; Hint system, when your brain needs a break; Drag and Drop stylus control system; Highly stylized environments

Double Dragon (ARC SYSTEM WORKS) – Rated: E-10
Fight your way through hordes of enemies to save Marian! A group calling themselves the Black Warriors has kidnapped Billy Lee's girlfriend, Marian. They demand to know the secrets of Billy's martial-arts style in exchange for his girlfriend. However, Billy won't stand for these underhanded tactics and decides to rescue her himself. Help him fight through city streets, buildings, jungles, temples, and various other locations in a quest to find his girl. He'll gain experience by using different fighting techniques in order to obtain more hearts, which will unlock more powerful techniques to use against his enemies. Keep an eye out for crates, boulders, whips, bats, knives, and even dynamite along the way, as Billy can also use them to annihilate opponents. Armed with his mysterious and powerful martial arts, help Billy pummel his way through an array of goons, gang members, and other Black Warrior scum to free Marian from their clutches

3D Ecco the Dolphin (SEGA) – Rated: E – $5.99
Save the seas as Ecco the Dolphin! After a mysterious storm sweeps your family from the sea, it's up to you to find them and uncover the mystery behind the forces that took them. The search to find them will take you through vast underwater realms of treachery, beauty and adventure. Use your sonar to discover hidden caverns and unlock the secrets of crystal glyphs, but beware of packs of bloodthirsty sharks that search the ocean for unwitting prey! In your quest, you'll discover that more than your family's safety is at stake. The fate of the whole world rests on your wits and fins. In addition to its all-new 3D presentation, 3D Ecco the Dolphin also features Super Dolphin Mode where your health and breath never deplete!
3D Galaxy Force II (SEGA) – Rated: E – $5.99
Save the galaxy from the Halcyon Empire! Halcyon, ruler of the invading Fourth Empire, has marked Junos as his final target in a galaxy wide campaign for dominance. Sending the bulk of his forces, he attacks with a single purpose – to eliminate all life forms in the system in order to build the seat of his power on the ashes of each of its five planets. As the star pilot of the governing Space Federation, it's up to you to strap yourself into your TRY-X and turn the tables on Halcyon. Re-mastered in 3D, Galaxy Force II 3D features drastically improved visuals and supports 16:9 wide screen and GamePad Pro. Arcade fans can now also enjoy Galaxy Force II in Arcade Cabinet mode!
Jump Trials Supreme (G-Style) – Rated: E
Run and jump as fast as you can across obstacle courses in a desperate race to reach the goal in 10 seconds! Can you reach the goal within 10 seconds? Every split-second counts as you race across obstacle courses, leaping from platform to platform, in a desperate race to reach the goal in 10 seconds. Dart across moving platforms, seesaw lifts, spring pads and conveyor belts to cross the stage as quickly as possible, but be wary of spikes and electric shocks! Even one touch is fatal! "Supreme" is the third in the series and packed with new stages, features and game modes! It looks and sounds great too with all new animations, lush backgrounds and improved sound!
Life with Horses 3D (TREVA Entertainment GmbH / Independent Arts) – Rated: E
Run the world's greatest stud farm in 3D! Renovate the stables, riding arena and guesthouse, take loving care of your horses and breed cute foals. Ride at full gallop in exciting cross-country races and master the most amazing jumps. Fantastic 3D graphics will guarantee lots of fun with your favourite animals. Demonstrate your skills in grooming, lunging and taking care of your horse. Breed your own foals, with over 100 possible combinations. Enjoy thrilling cross-country races through amazing landscapes. Collect Nintendo Playcoins and employ someone to perform tasks for you. Use the Nintendo 3DS motion controls to experience riding, grooming, and training foals first hand; StreetPass: Meet other players to breed more cute foals.
My Style Studio: Hair Salon (Cypronia) – Rated: E
Wash, color, cut, curl and style, make any hair style you want. Choose between five cute characters and cut and style them in whatever way you want. Use lots of different tools – from a simple scissors to a curling iron and decorate the final look with hats, glasses and other fun accessories. Realistic hair styling, 5 cute characters, 13 different tools, Lots of different accessories: hats, glasses and much more; Smooth and beautiful animations

Double Dragon (ARC SYSTEM WORKS) – Rated: E-10
Fight your way through hordes of enemies to save Marian! A group calling themselves the Black Warriors has kidnapped Billy Lee's girlfriend, Marian. They demand to know the secrets of Billy's martial-arts style in exchange for his girlfriend. However, Billy won't stand for these underhanded tactics and decides to rescue her himself. Help him fight through city streets, buildings, jungles, temples, and various other locations in a quest to find his girl. He'll gain experience by using different fighting techniques in order to obtain more hearts, which will unlock more powerful techniques to use against his enemies. Keep an eye out for crates, boulders, whips, bats, knives, and even dynamite along the way, as Billy can also use them to annihilate opponents. Armed with his mysterious and powerful martial arts, help Billy pummel his way through an array of goons, gang members, and other Black Warrior scum to free Marian from their clutches!
Nintendo 3DS System Update
A Nintendo 3DS system update released earlier this week adds Miiverse support and the ability to register a Nintendo Network ID. Users can now use the same Nintendo Network ID across the Wii U and Nintendo 3DS systems to combine Nintendo eShop balances and Wish Lists. For more information, visit http://www.nintendo.com/3ds/system-update.
DEMOS and PRICE DROPS
DEMO/DROP: Nano Assault EX (Shin'en Multimedia) – Rated: E-10
Stop the deadly Nanostray virus from spreading and contaminating civilization in Nano Assault EX, a fast-paced action shooter set within a visually stunning cellular system that leaps off the screen in full 3D. Control your microscopic Nanite ship inside the dangerous virus to fight off infections, navigate through alien cell clusters, battle bosses, and ultimately analyze and destroy the virus' core to save humanity. Nano Assault EX is based on the original Nano Assault retail game plus the all-new survivor mode, new online rankings, support for Circle Pad Pro, improved gameplay, updated graphics, etc.
DEMO: AeternoBlade (Corecell Technology) – Rated: E-10
In the region of Awelsia, vengeful Freya travels with an unknown weapon called "AeternoBlade" to take revenge from Beladim, the Lord of the Mist who destroyed her village, Ridgerode, and killed her tribe. Her vengeance is helped by Vernia , who has as much merit as Beladim. Vernia taught Freya about the ablility of AeternoBlade. Freya has to venture in many world dimensions to find how to annihilate Beladim. What is AeternoBlade? and How can Freya take revenge from Beladim ? Solve tons ton of mysteries in her adventure! The full game is set to be released in January 14th, 2014.

Orion's Odyssey (Enjoy Gaming Ltd) – Rated: E – 500 Points / $4.99
Puzzles using shapes for all ages! For hours of fun Orion's Odyssey is a geometric shape puzzle game. Help Orion the Robot solve Earths problems by using his unique ability to create anything he can imagine with the power of pattern blocks. Save the world one puzzle at a time This game is the successor to Hands On! Tangrams. Dissection puzzles claim to date back over 4000 years invented by a Chinese god named Tan and brought to Philadelphia, America in 1815 by Captain M Donaldson! Orion's Odyssey is a Pattern Blocks adventure for all the family. 10 themed levels, 100 pattern puzzles, 8-10 hours of gameplay with massive replayabilty!
Source: Nintendo