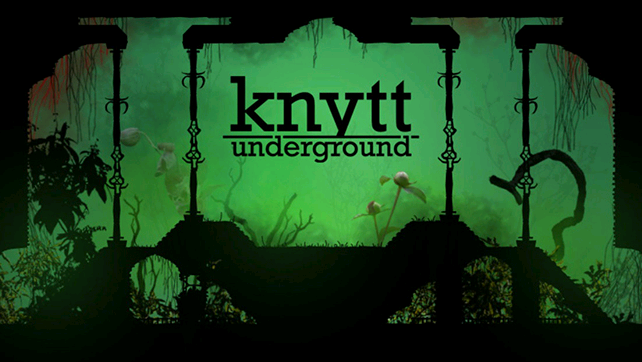 Knytt Underground (Ripstone / Nifflas' Games) – Rated: M
Knytt Underground is a unique adventure delivering zen-like gameplay, vibrant environments and dynamic characters!
The legendary Knytt series continues with Nifflas latest creation; Knytt Underground
Humans practically destroyed the planet in a war five hundred years ago and have long since abandoned the world. The remaining population called 'sprites' are forced to live in tunnels underground.
"Mi" (that's you!) is a mute but extraordinary sprite who develops special powers as she embarks upon a quest to ring the six bells of fate; which if not rung every six hundred years will begin a chain reaction that will obliterate the world! With an array of thrilling quests, unique zen-like gameplay and plenty of dynamic characters to meet and guide you on your adventure – Knytt Underground™ delivers a captivating and unparalleled experience that will not disappoint! Can you ring the six bells of fate and save the world before it's too late? Download today and begin your journey through this vibrant and enchanted underground world!

Castlevania (Konami) – Rated: E
Beware of Dracula and his ghoulish minions as you enter his lair… Step into the shadows of the deadliest dwelling on Earth. You've arrived at Castlevania, and you're here on business: to destroy the curse of the Evil Count, once and for all. Make your way through six monstrous floors filled with bats, ghosts, zombies, and every kind of ghoulish creature you can imagine. Use the legendary whip Vampire Killer and a host of deadly weapons to battle your way to Dracula's chamber and the ultimate duel of good vs. evil.
DEMOS & PRICE DROPS
DEMO: Nano Assault Neo (Shin'en Multimedia) – Rated: E-10
Stop the deadly Nanostray virus from spreading in the nano cosmos. You are one against millions. Stop the deadly Nanostray virus from spreading in the nano cosmos. Traverse a breathtaking microscopic world. You are one against millions. Nano Assault Neo is an all-new unique twin-stick style shoot 'em up game for Wii U.
Play on the Wii U GamePad and invite a friend to play on the TV. Can't play because the TV is occupied? Play just on the Wii U GamePad with the touch of a button!
Super smooth 16:9 graphics running at 60 fps with linear PCM 5.1 surround sound.
Play 16 levels spread across four clusters, each with its own unique microscope-inspired style. Battle and defeat four extreme bosses.
Upgrade your ship with up to four satellites and three different subweapons.
Customize the placement and shooting direction of your satellites directly on the touch screen while playing to adjust your strategy.
Post your scores to the online rankings.
Complete special missions and receive awards.
PRICE DROP: Little Inferno (Tomorrow Corporation) – Rated: T
Congratulations on your new Little Inferno Entertainment Fireplace! Throw your toys into your fire, and play with them as they burn. Stay warm in there. It's been snowing for as long as anyone can remember! Burn flaming logs, screaming robots, credit cards, batteries, exploding fish, unstable nuclear devices, and tiny galaxies. An adventure that takes place almost entirely in front of a fireplace – about looking up up up out of the chimney, and the cold world just on the other side of the wall. Starting today, download Little Inferno in the Nintendo eShop on Wii U for 50% off until 9 a.m. PT on Jan. 2. Reg. $9.99 – Sale. $4.99
From the designers of World of Goo and Henry Hatsworth in the Puzzling Adventure
100% indie – made by 3 guys, no office, no publishers, no funding
IAP Free – no spam, upselling, ads, of any sort. Just the game.

Banana Bliss: Jungle Puzzles (Teyon / MECHANIC ARMS) – Rated: E
Embark on a fruitful quest with Morris the monkey in this puzzling adventure! Discover the dense jungle trails with Morris the monkey and gather all the scattered hearts on Paradise Island for his beloved sweetheart Molly. Swing, run and climb through the jungle canopy, by-passing and destroying dangerous critters from spiked urchins to poisonous snails that will try to get in your way! Locate hidden bananas in each level to unlock bonus levels and with every banana revealed you can save your play and watch it back with the built-in replay function, Playback! With over 300 levels to complete in 7 jungle-inspired worlds there will be no time for monkeying around in these blissful jungle puzzles! READ OUR REVIEW HERE.
Swing through over 300 puzzles in 7 jungle-inspired worlds!
Climb and interact with boulders, bars and other items to clear each puzzle
Avoid or destroy the jungle critters that roam aimlessly around the jungle
Earn a Banana Bonus in each level to save the level's replay and watch it back with Playback!
Winter Sports – Feel the Spirit (TREVA Entertainment / Independent Arts) – Rated: E
Higher. Faster. Further. Winner! Experience the adrenaline-fuelled winter sports highlight and embark on a record-breaking quest in 7 thrilling disciplines. Become champion and engage in exciting competitions on the world's most exhilarating ice surfaces and pistes, or soar high and become king of the air in ski jumping! Immerse yourself in the spectacular three-dimensional atmosphere of the competition and get close to the action as an athlete when just hundredths of a second can decide the winner of the contest! The ideal winter sports fun for on the go on your Nintendo 3DS!
7 thrilling winter sports disciplines with action-packed gameplay
3 brand-new disciplines: Ice Speedway, Cross-Country Skiing und Curling
Breath-taking winter sport atmosphere with amazing 3D graphics and dramatic soundtrack
50 gripping challenges in the fast-paced Cup, Challenge and Single Discipline modes
20 nations to choose from
Spectacular slow-motion replays
3D Streets of Rage (SEGA) – Rated: E-10
Take the fight to the streets! In the grips of a vicious crime syndicate, this once peaceful city has become a center of violence and mayhem. Amidst this chaos, three young police officers are determined to tackle the problem head-on. Taking control of one of three ex-officers, use their special hand-to-hand combat abilities to take down the syndicate and save the city. In addition to its all-new 3D presentation, 3D Streets of Rage also features Local Multiplayer and a Single Hit KO mode to help you power through the city's crime.
3D Shinobi III: Return of the Ninja Master (SEGA) – Rated: E-10
The Shinobi master is deadlier than ever! Joe Musashi's sworn enemies, the Neo Zeed, have returned! Controlled by Shadow Master, a formidable ninja cloned from Joe's own bloodline, the syndicate holds the city captive with its vicious crime ring. Utilize deadly weapons and lethal ninja arts in order to stand against the hordes of bio-ninja and save your city! In addition to its all-new 3D presentation, 3D Shinobi III features a Round Select Mode and customizable input setting which allows you to assign each action to specific buttons.

Crash 'n the Boys Street Challenge (ARC SYSTEM WORKS) – Rated: E
Todd Thornley III, son of the head of Thornley Industries, has had it with Crash and the Southside boys. Todd decides Hiller High, along with help from the other high schools, will take down Crash by challenging him and Southside High to an unsanctioned street challenge. Take control of one of four high school teams, all with different characters to play, as you make your way through five wild sporting events. Rage through the 400 meter hurdles, Hammer Throw, Swimming, Rooftop Jumping, and Judo. Can you lead your high school to the top of the Street Challenge!?
DEMOS
DEMO: Brunch Panic (CIRCLE Entertainment / FK Digital / Flyhigh Works) – Rated: E-10
Ever dreamed of running your own food truck? Or traveling to the places you've always dreamed about? Here's the story of Bonnie, a young bright-eyed girl, with a talent for cooking and a love of travel and adventure. One fateful birthday, her grandfather presented her with a gift that combined her two passions. A brunch truck! And so began her dream adventure, traveling all over the world with one brunch spot at a time. Want to help Bonnie to cook her delicious brunch specials? Want to meet interesting people around the globe? Let's jump in with Bonnie and start the brunch truck journey together!
DEMO: World Conqueror 3D (CIRCLE Entertainment / Easytech / LIONant) – Rated: E-10
World Conqueror 3D is a new type of strategy game on the background of WWII. In this game,you depend on your troops as you compete for territories. Territories consist of land, cities, and even oceans,for the purpose of gaining resources, developing an economy,and military to conquer your enemies. This game requires you to operate and command three basic troops reasonably, these troops include soldiers, tanks and artillery. Judge situations correctly with the AI and the fight will remain in your favor. The attributes of arms are different for each country. Immerse yourself by enjoying the magnificent fighting music and sounds of battle.
Source: Nintendo