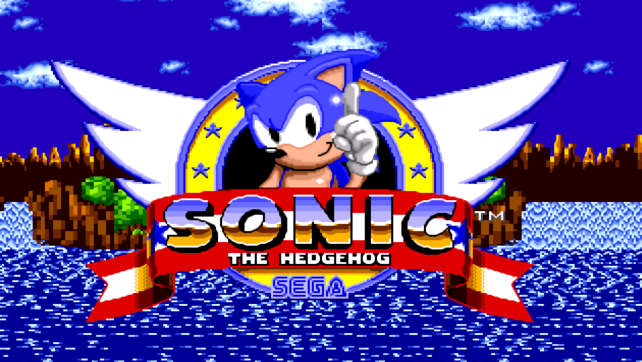 3D Sonic The Hedgehog (SEGA) – Rated: E – $5.99
Sonic The Hedgehog, now in 3D! The evil scientist, Dr. Eggman (aka Dr. Robotnik), has snatched the animals of South Island, turning them into robot slaves. Only one hero can defeat Dr. Eggman and rescue the animals from his vile clutches – it's the super-cool hedgehog with the blue spiky hair, Sonic! Race at lightning speeds across seven classic zones as Sonic the Hedgehog. Run and spin through loop-de-loops as you collect rings and defeat enemies on your mission to save the world! In addition to its all-new 3D presentation, 3D Sonic The Hedgehog™ now features Zone Select and the classic Spin Dash move to help you zoom through Zones and take down Badniks!
3D Altered Beast (SEGA) – Rated: E-10 – $5.99
Rise from your grave! Summoned from the dead by Zeus, shape shift into various beasts and fight off hordes of demons to rescue the captured Athena from the clutches of Neff. Transform into a variety of beasts and fight off throngs of demons sent forth by the evil Neff. The mighty shape-shifting god will challenge you in various, hideous forms in each level, but you are armed to the teeth with transformative tricks of your own! In addition to its all-new 3D presentation, 3D Altered Beast also supports local multiplayer, and a Random Transformation Mode.
Brilliant Hamsters! (Bergsala Lightweight LLC / Hi Corporation) – Rated: E – $9.99
Play with your Hamsters in 3D! Hamsters are brilliant and they appreciate being well cared for and loved. Take care of your Hamsters by feeding them, changing their outfits and earning new cages for them to live in. Play games with your Hamsters using the AR Card. Your Hamsters will reward you with hours of fun!
Cloudy With a Chance of Meatballs 2 (GameMill Entertainment / 1st Playable Productiona) – Rated: E – $29.99
Hungry for Adventure! Cloudy with a Chance of Meatballs 2 brings all the food-filled fun and appetizing adventure of the hit movie's sweet sequel to gamers. Following the events of Sony Pictures Animation's original culinary comedy, Cloudy with a Chance of Meatballs 2 continues the exciting journey of inventor Flint Lockwood and his friends as they rush to save the world from his most infamous machine that is now creating food-animal hybrids — Foodimals! This action-adventure title, starring a dazzling cast of characters, art, and environments from the animated feature, is ideal for young gamers and fans of the film of all ages. Savor with every play with a suite of unlockable levels, unique character abilities and power-ups, and bonus Challenge and Survival gameplay modes in addition to the main story.
Nintendo eShop Sale
Donkey Kong headlines the final week of this special offer on select games in the Nintendo eShop. Now through 9 a.m. PT on Dec. 12, get 30 percent off on Donkey Kong, Donkey Kong Jr. and Donkey Kong 3 for Wii U, as well as Donkey Kong, Donkey Kong Jr. and Game & Watch™: Donkey Kong Jr. for Nintendo 3DS. Check out Nintendo.com for all the details.

Donkey Kong 3 (Nintendo) – Rated: E – $4.99
Donkey Kong has lodged in a greenhouse and it's bugging the bees out of Stanley! Based on the third game in the enormously popular arcade series, Donkey Kong 3 introduces an exterminator named Stanley as he desperately tries to protect the flowers in his greenhouse from Donkey Kong. Armed only with a can of bug spray, Stanley must force Donkey Kong higher and higher into the greenhouse rafters until Donkey Kong is off the screen and the next stage is reached. But not surprisingly, Donkey Kong isn't going to move without a fight, so he sends wave after wave of bugs, bees, and other creatures toward Stanley. Not only must Stanley repel the insects in order to save the flowers, but he'll have to keep an eye out for projectiles thrown by Donkey Kong himself. If Stanley is good enough, he'll be able to grab a can of more powerful bug spray and really get Donkey Kong moving. It all adds up to frantic fun that anyone can enjoy!

The Legend of the Mystical Ninja (Konami) – Rated: E – $7.99
A true mystical ninja must prove their worth with their brain, not brawn! Take control of Kid Ying and Dr. Yang in an action adventure through feudal Japan! A curse has stricken the village of Horo-Horo, and its beloved princess has vanished. Together Kid Ying, a daring young mystical ninja, and Dr. Yang, master of the invincible spirit transformation, must overcome 10 levels of the Dragonbeast to save Princess Yuki. Each stage contains intense 3-D and 2-D zones where the duo must perform dozens of attack moves and solve magical problems and puzzles before advancing. Battle humorous enemies like the Carp Meister, who stuns victims with poisonous fighting fish, Tanaka-U-Out, a knockout artist who wallops opponents with a bone-crushing hammer, and the Sumo Tag Team, kings of the unbeatable belly-buster crunch. Collect coins to buy new equipment and to receive clues, spend some time playing minigames in the arcade or try your luck and increase your fortune at the Quiz House and Horse Races.

Hooked on Bass Fishing (GAMEBRIDGE / Mechanic Arms) – Rated: E – 500 Points / $4.99
Hooked on Bass Fishing lets you experience the excitement of fishing with a sense of real life fishing! Hooked on Bass Fishing is a fun and simple game that offers fishing enthusiasts the ultimate fishing experience! To start the game, all you need to do is tap the area on the Touch Screen in which you want to fish. Next, cast your line and tap the Touch Screen as soon as a fish has taken a bite! In order to safely land your fish, slide your stylus in the appropriate direction to hoist your fish out of the water!
Source: Nintendo