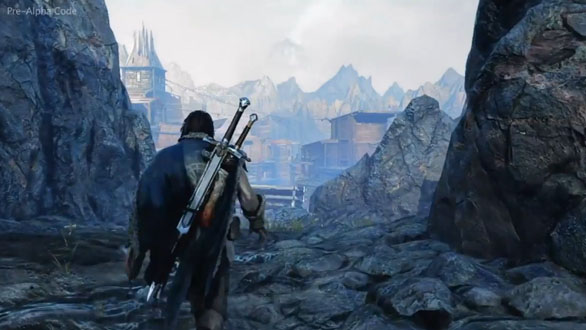 GameSpot has released some gameplay footage that shows what Warner Bros. Interactive Entertainment's new Lord of the Rings title Middle-earth: Shadow of Mordor looks like from Monolith Productions. So far it seems to be somewhat Assassin's Creed inspired with random rival generation which makes Orc foes that you build a history against called the Nemesis System. All this taking place between The Hobbit and the Lord of the Rings trilogy. Interestingly, this is possibly the first non canon LOTR video game. Read on for the video!
As we all know, one does not simply walk into Mordor. However it looks like the stories hero Talion will have some decent help as he quests to exact revenge on Sauron's armies for killing his family. It seems Talion also falls to these foes but is revived with wraith-like abilities, similar in concept to when the one ring is used, the video notes.
Also mentioned is that this is seemingly an open world. Considering the impressive visuals (probably Xbox One and PS4 versions shown) this does look like one of the most stunning LOTR games to date. I felt that it's inspiration from the Peter Jackson films is done quite well. The concept had me interested in checking out this game before, but I must admit the visuals have captured my attention as well!