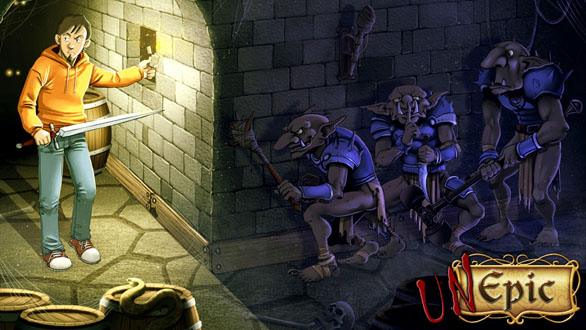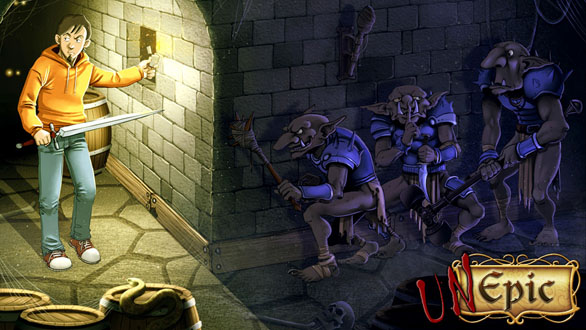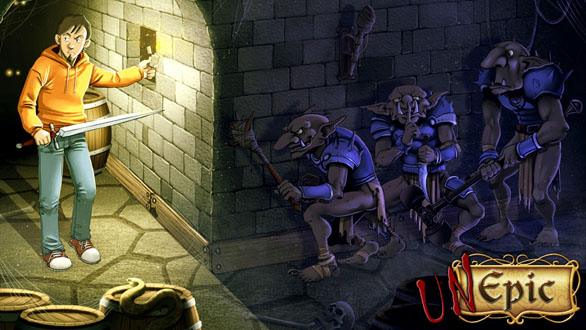 Released today on the Wii U eShop, this game is an indie gem worth checking out. The latest I've been enjoying is UnEpic, a quest that features a tabletop gaming fan being transported into a far away dark castle. RPG know how and clever wit come into play as you advance with your modern day hero. It's an enjoyable story that plays out in a web comic sort of feel since you occasionally have conversations with a shadow being that fails to possess your characters body and gets stuck within him. The exchanges between the two are quite fun and keep a comical tone to your journey. Read on for more, as well as the games trailer.
Originally the game has just been available for PC, which does look like a good version as well. It's now even available through steam. However the Wii U port published by EnjoyUp makes good use of the Wii U Gamepad. Your equipment slots for quick items are displayed on the Wii U Gamepad's view screen, and by pressing minus, you're able to swap the gameplay to the controller's screen as well for a close up view of the exploration action. This helps especially for trying to weed out traps which are more easily visible on the touch screen.
It does however sound like according to Indie Statik that the games dark themes and potentially some adult content are being toned down for the Wii U release. I've had a chance to try the Wii U build and so far it doesn't seem childish. After all, the shadow creature that gets stuck in your character is still making suggestions to send you to your hero to his doom so he can be freed. Mind you I haven't played the PC version to compare however.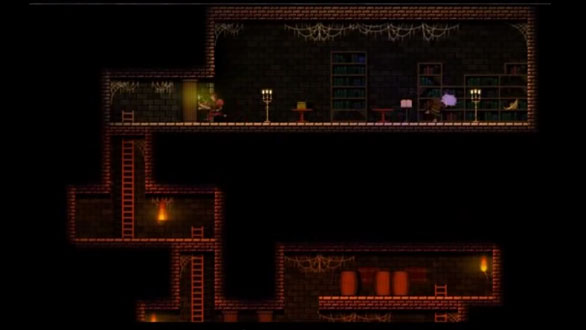 You'll note that the game looks quite basic from screen shots. It's definitely more worthwhile to see it in action. On the Wii U version, each full screen is a chunk of the castle. You wander about lighting torches, discovering hidden areas, and making your way around the full screen to find ways onto the next. That's not to say they're always complex. More so that this is how you explore the castle. It's similar to some other indie titles I've played lately. Basically the screen doesn't scroll, you just move over into another full screen of rooms to explore.
A review for UnEpic is on the way so stay tuned! I'd highly recommend the game so far though. It's comical with fun voice acting. Lots of platforming adventure and a leveling up system that pretty much gets you high enough in each area to be relatively as powerful as the current enemies. Sure you can grind, but it seems like in general that would take awhile unless you progress. Don't just take my word for it though. If you download the game from the official site and haven't purchased it you can play it in a demo mode for PC!