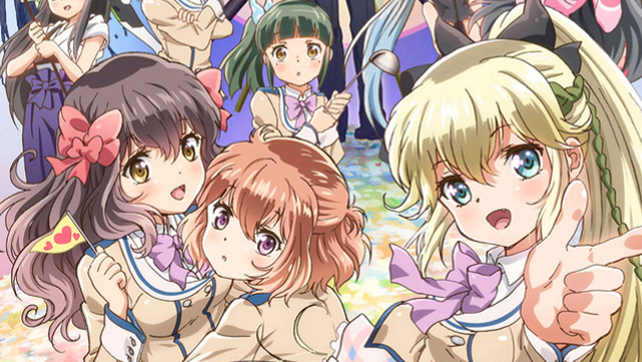 Our third week at Anime Spotlight is a more recent series, If Her Flag Breaks which made its debut on television in Japan just last month. The series follows the adventures of Sota Hatate, who has the unique ability to see "Flags" above the heads of other people. The "Flags" mark critical crossroads in people's lives — when the choices they make will determine love, friendship, victory, and even death. He transfers into Tokyo's elite Hatagaya Academy, but instead of living by himself in the boys' dormitory, he ends up living with many beautiful girls under one roof.
The show is in the harem genre, which basically means that the show revolves around a central male character where the majority of the main female characters are either close friends or want to date the main character. It's the type of thing that isn't too common on North American television but is pretty common in anime. It's actually kind of funny.
Often the male character in the series either isn't interested in the girls, either by choice or destiny, and usually has to "deal" with the girls. This usually leads to many humerous situations where the girls try to win over the guy or better one of the other girls.
So Sota Hatate can see flags over people's heads every so often. These flags give away what a person is feeling and he can use these to direct them the way he wants, or perhaps to save their life. If someone wants to do something and is showing a friendship flag, he becomes aware of their desire and motivation and can say the right thing to break their flag.
He can also see a death flag over some people and can act to change their course and prevent that death from happening. The series starts to take an interesting shape when he starts to see a death flag taking shape on himself in his own reflection. Then in a twist a mysterious transfer student enters Hatagaya Academy who seems she has the same ability to see flags and manipulate them, just like Souta. Who is this new student? Who are the council of the seven virtues, who sent in this new student?
The show is very cute so far and each of the girls seems to have their own history and character. Nanami is a princess of a small European principality, Akane is the granddaughter to the founder of the renowned Mahougasawa Foundation and is set on making Souta feel welcome and at home, Kikuno is Souta's childhood friend who likes to act as an older sister to him, Megumi is a schoolmate who is thought to be a girl even though he dresses as a boy, Rin is a long lost childhood friend of Souta and Ruri is an android created by the Mahougasawa Foundation.
If Her Flag Breaks is just starting to get interesting. The show is presented by NIS America and you can watch along on Crunchyroll.