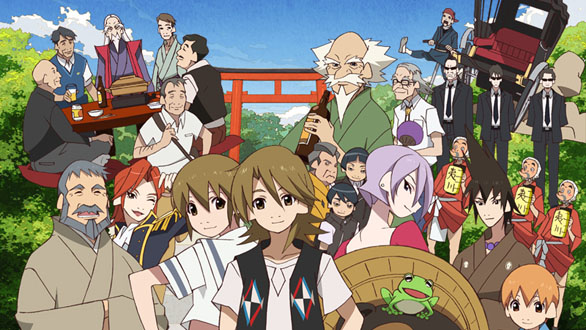 Lets take a look into the New Year already as NIS America prepares to release The Eccentric Family in a Complete Premium Edition on January 6th, 2015. The premium edition two Blu-ray disc set will include all 13 episodes, a 64 page full-color art book, and NIS America's high quality collectable packaging! Want to hear more about the tale of the Shimogamo family and see the trailer? Read on for
Here is the official press announcement from NISA!
In Kyoto, humans, tanuki, and tengu live side-by-side.

The Shimogamo family lives in Shimogamo Jinja's Tadasu no Mori. The father, Soichiro, used to be the head of tanuki society, but without warning one day he was made into tanuki stew, and no one knows how it happened.

He left four sons behind: Yasaburo, the third son who inherited a rich strain of his great father's "idiot blood"; Yaichiro, the diligent eldest son who has a tough time pulling through in a pinch; Yajiro, the second eldest who secludes himself in a well as a frog; and Yashiro, the timid youngest brother who shows his tail at the drop of a hat. They all live happily with their mother, a serious Takarazuka fan, with the motto that, "What is fun is good." After taking care of Professor Akadama, a retired Great Tengu, being manipulated by the beautiful Benten, a human girl with divine powers, and fighting air-battles against their rivals, the Ebisugawa family, in the night sky over the Daimonji Gozan Fire Festival, the Shimogamo family suddenly finds itself in a desperate fix.

Will the truth behind how their father got stewed be revealed?! What does fate have in store for this strongly bonded family?!