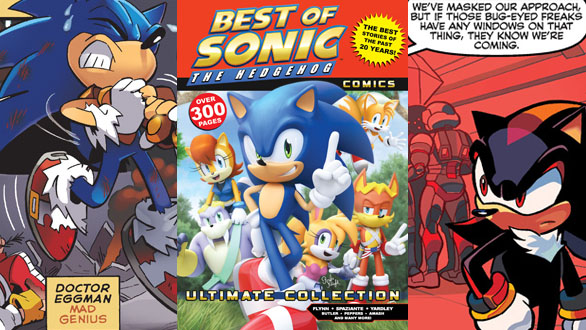 Archie Comics has had a good collection of these 300 plus page books released lately and this time they have gamers in mind. With a huge variety of stories, this is a great item if you haven't been picking up Sonic titles in awhile. What's inside?
Lots of exciting and pivotal story arcs are included from an early Spaz penciled tale of Mecha Sonic in Rage Against The Machine, to other titles like Future Tense with Silver and Lost In The Moment which features a Mechanized Sally Acorn. The book may start off with some older content, but picks up into some incredible and beautiful additions.
All of this for just $9.99 USD! I have to admit, I've been out of collecting Sonic comics for awhile and this book is a great way to see some of what I missed. Many of these seem to be quite epic storylines as well! It's great to see Archive Comics carrying this 300 page series over into the Sonic universe!