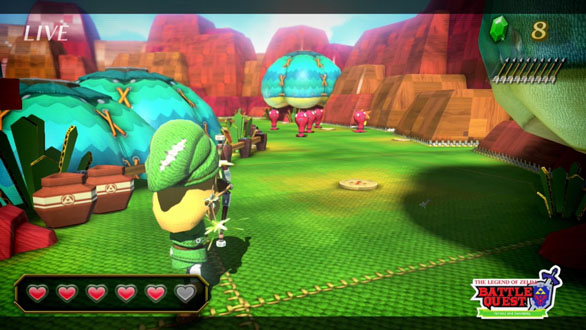 Back when the Wii U was first being released, we were invited to a press event to check out some of the games. Many of the concepts were really fun and creative. However it wasn't until we tried Nintendo Land that we really realized what could be done with the Wii U. Since then, there really hasn't been much content like it and that's a shame.
You can play The Legend of Zelda: Battle Quest in Nintendo Land like a VR game. That's right, you can look around and feel like you're peering into the game world with your Wii U Gamepad right now! It was this innovation that made me think that the Wii U was really going to be an amazing console. However later when we tried out Call of Duty Black Ops 2 for Wii U, it was disappointing to see the game didn't make use of this play option. The Wii was all about getting off the couch and flinging around controllers like crazy, so what happened?
Even something like the N64's game Quest 64 could have made an amazing Battle Quest inspired title. Wandering the countryside, looking through your gamepad. Treating it like a VR experience! This is truly the magic of the Wii U and hopefully it's something we'll see more of. It just seemed to be a feature and not something that was really pushed. Really the Wii U should be sold on this very play mechanic. Lots of VR content is on the way.
It's not too late. An indie studio could shine by creating an exploring game using the Wii U like this. Lets roll that clock back all the way to classic adventure games like Shadowgate. Games that encouraged gamers to look around. The Wii U is so perfect for content like this. Hopefully we will see more to come.