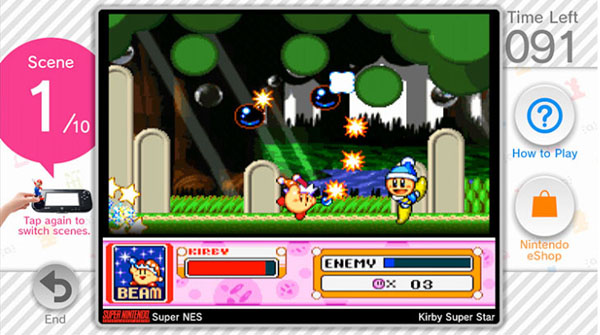 When I first heard about Amiibo Tap, I kind of glazed over it. Basically it sounded like I could play a time limited trial of a classic NES or SNES game. Of course we've been there and done that with other releases. We're gaming press of course though, so we took a look to see what this new release was and were quite surprised!
At first, the software sounds pretty bland.
• Dozens of games and scenes to discover
• Each amiibo figure unlocks a random game to sample included in this software's selection of titles
But then you get to this part…
• Each game contains multiple scenes that last for three minutes
Wait, what? So what do you get, World 1-1 and World 1-2 of Super Mario Bros? Surprisingly no, you get quite a great selection of highlights! I've only tried Super Metroid so far but that title is actually a collection of boss fights and a run through Tourian to battle some Metroids themselves. It seems to run on software similar to our very much loved NES Remix series. Letting you play these classics in a bordered window with a countdown timer showing your three minutes remaining.
To switch scenes, you just tap your Amiibo to the Wii-U GamePad and zip, you're off to the next one in like. Super Metroid contained something like eight scenes too! So if you're not a hardcore collector and have actually removed your Amiibo from their packaging, it's worthwhile to download Amiibo Tap and give it a go! After all, Amiibo Tap is free! It's more than just a demo player, it's a neat nostalgia trip.