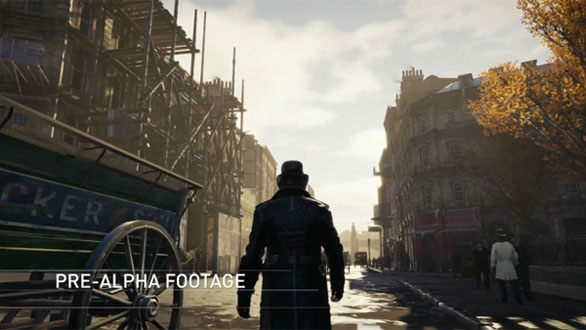 I'm going to let you in on a secret. I don't play open world games for the amazing stories or any of that. Usually I'll just plunk myself down and wander the landscape in free play. After all, many artists lovingly crafted a world to be explored, who am I to deny their vision? So I wander, taking in all that is around me. Oculus Rift is going to feel like Sword Art Online to me.
Anyway! Back on topic. Assassin's Creed: Syndicate has a fantastic Victorian London landscape to explore. Just from the trailers released today it's clear this is going to be a pretty world to explore. Sure, some of the other characters may shake their fingers at me and look on questioningly, but lets be honest here. Anyone using an Animus would be doing the same thing! Whoa, look at all the pretty architecture!
Are there new things? You bet there are! From a zipline tool that can get you on top of buildings much faster to actually being able to drive carriages it looks like there will be some new ways to play.
So, without further ado, let's take a look at the latest Assassin's Creed!