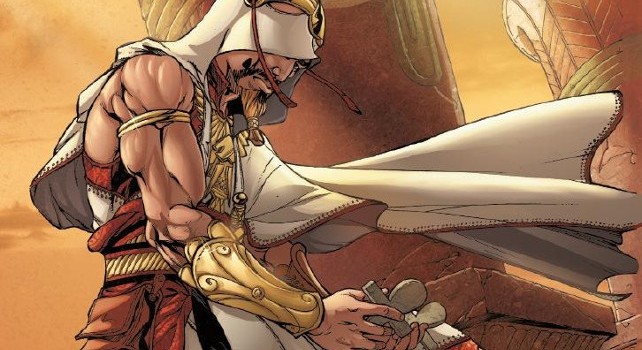 Titan Books is set to wrap up their Assassin's Creed graphic novel series with the sixth and final volume in November.
Taking place in 14th century Egypt, the seasoned Assassin El Cakr seeks to return the mysterious Scepter of Aset to the Brotherhood…when it is stolen by a mysterious woman named Leila. Seven centuries later, El Cakr's descendant Jonathan Hawk desperately tries to get his hands on the relic – leading to an ultimate showdown between the Assassins and the Templars.
The grand finale of Assassin's Creed's Egyptian saga is a very well put together book.
I'll admit that I haven't read the first five in the series, so I was a little vague on the story as I started to thumb through the pages on the book. Though while I was a little unclear on what was going on at first, the storyteller thankfully updates the reader as to what is transpiring. So while I was green at the start, I was able to encapsulate the full scope of the story by the end of the book.
Assassin's Creed – Leila has a strong visual style, which plays well to both the modern day look as well as the Middle Eastern look from centuries ago. Characters are drawn with strong lines and sharp corners, which really plays into the tension that is sewn throughout the story. The visuals of the book, combined with a nice soundtrack in the background while reading, creates a great atmosphere which is easily carried through the pages.
The book will be released on November 17th, 2015. You can pre-order your copy at Amazon.ca.