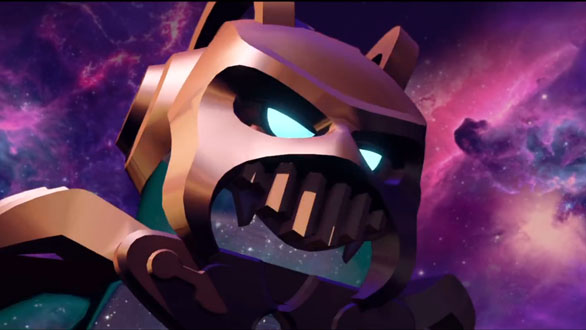 The next evolution of Traveller's Tales Games was released this weekend in the form of LEGO Dimensions! We've gone on many amazing adventures thanks to these awesome titles, but this time many of those worlds are colliding! Not only that, Dimensions brings the whole NFC craze to the LEGO brand. So if you're a Skylanders or Disney Infinity fan, this is LEGO's own unique version of those titles.
There is a LOT to go through with all of this content. It looks like the main game is at least 11 hours long, but on top of that it seems individual characters open adventure worlds to explore based on their own franchise. We haven't had any hands on experience yet so I'll let today's PR release speak for itself, but hopefully we'll be able to further inform you in the future.
Burbank, Calif. – September 27, 2015 –– Warner Bros. Interactive Entertainment, TT Games and The LEGO Group announce today's launch of LEGO® Dimensions, the all-new entertainment experience that allows players to expand their imaginations beyond traditional gaming to merge physical LEGO brick building and interactive console gameplay with 14 fan-favorite universes. Developed by TT Games and published by Warner Bros. Interactive Entertainment, LEGO Dimensions is now available for PlayStation®4 and PlayStation®3 computer entertainment systems, Xbox One, Xbox 360, and the Wii U™ system.

For the first time in any LEGO videogame, 14 iconic entertainment brands and franchises – DC Comics, The Lord of the Rings, The LEGO Movie, LEGO Ninjago™, Back to the Future, The Wizard of Oz, Scooby-Doo!, LEGO Legends of Chima™, Doctor Who, Jurassic World, Ghostbusters, The Simpsons, Portal and Midway Arcade – converge in one thrilling adventure. In the game's story, a mysterious and powerful vortex suddenly appears and sweeps away characters from various LEGO worlds. To save their friends, Batman, Gandalf and Wyldstyle bravely jump into the vortex and quickly find themselves on a journey through unexpected worlds, teaming up with unlikely allies on a quest to defeat the evil Lord Vortech.

"This is an entirely new LEGO experience where players can build the physical toys and play with a mash-up of brands in the videogame just like they would in real life," said Jon Burton, Founder and Creative Director, TT Games. "We wanted to create a game where players can combine their favorite characters and universes and play without restrictions. They can have Scooby-Doo pilot Wonder Woman's Invisible Jet through Cloud Cuckoo Land from The LEGO Movie if they want to. Literally every character can go into any world and use any vehicle or gadget."

"LEGO Dimensions expands our LEGO videogame franchise with innovation, an amazing range of world-class entertainment properties and ever-growing gameplay designed for longevity," said David Haddad, Executive Vice President and General Manager of Warner Bros. Interactive Entertainment. "LEGO videogames are some of the most popular in the world because fans love TT Games' compelling gameplay mixed with humor. LEGO Dimensions builds on this legacy with a new immersive interactive experience that will evolve the toys to life category."

"We are excited to introduce LEGO Dimensions, a unique gaming experience that brings the versatility of LEGO play into the digital world. For the first time, beloved characters from LEGO building sets are introduced into a gaming experience where fans can mix and match characters and universes just like they do in the playroom." said Niels Jørgensen, Vice President, Digital Games for the LEGO Group. "We are thrilled to continue our close partnership with TT Games & Warner Bros. Interactive Entertainment and to bring a new and different way of digital LEGO play to children and gaming fans alike."

The LEGO Dimensions Starter Pack includes the videogame, bricks to build the LEGO Gateway, three LEGO Minifigures, Batman, Gandalf and Wyldstyle, plus the LEGO Batmobile, and the revolutionary LEGO Toy Pad, which allows players to transport special LEGO minifigures and models into the game, as well as direct in-game action all with the movement of the physical toys. And just as kids have enjoyed growing their physical brick collections with everything working together, the LEGO Dimensions Starter Pack is the entry point for a gaming system of play that will offer continued compatibility for the years ahead – everything bought today and expansions added tomorrow will continue to work together. No compatibility chart necessary!

The LEGO Toy Pad is an interactive part of the LEGO Dimensions gameplay experience functioning as an additional game controller giving players a unique way to interact with the toys and game throughout the experience. The innovative LEGO Toy Pad allows any combination of seven characters, vehicles and gadgets to be simultaneously brought into the game. More than simply a spawning device, it features three distinct areas of RGB light technology that produce a broad array of colors to provide hints and puzzles for the player to solve, bringing physical and digital play more intertwined than ever before.

Incorporating the tangible fun and creativity of LEGO brick building, every LEGO vehicle and gadget, including the LEGO Batmobile, in LEGO Dimensions can be physically rebuilt twice, for a total of three different objects, each with unique in-game abilities, which add massive variety to gameplay. And not to be over-looked, a hallmark of LEGO videogames, two-player, local co-operative, drop-in/drop-out gameplay is also part of LEGO Dimensions, allowing friends and family members to join the adventure at any time.

In addition to the 14 levels found in the game's main story, players can also access one distinct, freeplay Adventure World for each of the 14 fan-favorite entertainment properties in the game. Each world can be unlocked with any LEGO Dimensions minifigure belonging to that brand, providing players access to additional gameplay content and exploration throughout some of the most iconic locations from each brand's universe. And just like the story levels in the game, any character can use any vehicle or gadget in any Adventure World.

LEGO Dimensions also allows gamers to customize their experience with expansion packs from all brands featured in the game. These highly collectible Level Packs, Team Packs and Fun Packs provide new buildable characters, vehicles, and gadgets with special in-game abilities. All expansion packs provide gamers the opportunity to use everything interchangeably, anywhere throughout the game.

Back to the Future, The Simpsons and Portal Level Packs, Scooby-Doo! and Jurassic World Team Packs and DC Comics, The LEGO Movie, LEGO Ninjago, The Lord of the Rings, LEGO Chima and The Wizard of Oz Fun Packs are available now as part of the wave one release of product. Additional expansion packs will be released in the November 2015, January, March and May 2016 product release waves.

Also launching today is a LEGO Dimensions companion app which provides players with a free, easy to use tool that can track personal LEGO Dimensions expansion pack collections, create wish lists, and provide additional information about the game and all related products. With detailed information on the LEGO Dimensions storyline, instructions for various gameplay features, and a listing of the in-game abilities and release timing for each expansion pack, players are able to use the app as a destination to expand their LEGO Dimensions knowledge and capabilities, and to track the availability of future expansion packs alongside their own collection. The LEGO Dimensions companion app for iPhone, iPad, iPod touch and Android devices is available for download on the App Store and Google Play™.