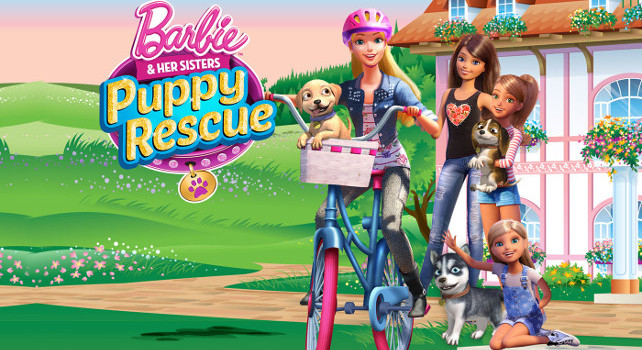 Barbie and her Sisters Puppy Rescue is now available on Nintendo 3DS, Wii, and Wii U, and for the first time on Sony and Microsoft consoles; PlayStation 3 and Xbox 360. The game, developed by Little Orbit, together with Mattel, Embark on an all-new adventure with Barbie and her sisters as they return to Barbie's hometown of Willows and work together to save and care for lost puppies.
Inspired by the hit DVD, Barbie and Her Sisters in the Great Puppy Adventure, players join Barbie and her sisters –Skipper, Stacie and Chelsea – as they solve clues to find and rescue lost puppies in need. With six adorable dog breeds, kids can customize kennels toys, blankets, beds and décor at the Roberts Sisters' Puppy Rescue! Each sister will bring their own unique set of skills and activities to the game as they work together to make a difference. Players can groom puppies at Chelsea's Pup Care or teach them new tricks at the Pup Camp with Stacie!
"We are thrilled to bring Barbie to Xbox and PlayStation gamers for the first time," said Matt Scott, Little Orbit CEO. "Barbie and her Sisters Puppy Rescue is all about working together, girl power and having fun, and we think the combination of activities and rescue adventures will be very popular with Barbie fans."
Players will join Barbie as she explores Willows by bike solving clues to rescue lost puppies. Once rescued, players will complete individual mini-games to get their puppy adopted and ready for its new owner! From brushing puppy teeth, to grooming and training activities, every activity breeds pure fun. Once players get their puppy to "graduation," they will be rewarded with in-game currency allowing them to unlock a number of cool upgrades to expand gameplay.
The game is rated E for Everyone by the ESRB and is available on the Nintendo 3DS and Wii for $29.99. The game retails for $39.99 on the Wii U, PlayStation 3 and Xbox 360.
We'll have our review of the game in the coming days, including the thoughts and impressions of a younger gamer (my daughter). Stay tuned.