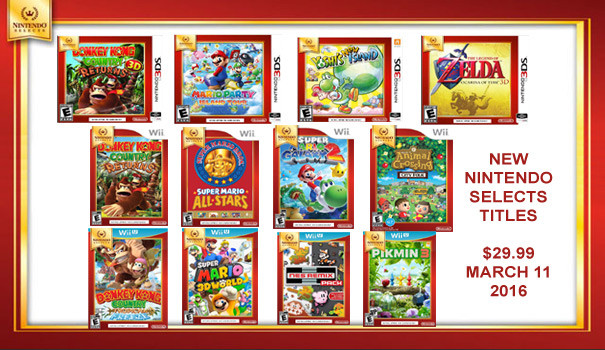 Okay so I've only seen this in one place so far, and haven't seen any official announcement from Nintendo, but it looks like Canada may be getting select Nintendo Wii, Wii U, and 3DS games for a good price very soon.
According to Canadian online retailer Video Games Plus, twelve games will be added to the Nintendo Select series of games and will retail for $29.99 CAD. These games are now available for pre-order thru their website, with the release date for these re-releases set for March 11th, 2016.
The games included are:
Animal Crossing: City Folk (Wii)
Donkey Kong Country Returns 3D (3DS)
Donkey Kong Country Returns (Wii)
Donkey Kong Country Tropical Freeze (Wii U)
Legend of Zelda: Ocarina of Time (3DS)
Mario Party Island Tour (3DS)
NES Remix Pack (Wii U)
Pikmin 3 (Wii U)
Super Mario 3D World (Wii U)
Super Mario All-Stars (Wii)
Super Mario Galaxy 2 (Wii)
Yoshi's New Island (3DS)
UPDATE: Video Games Plus has removed the listing of games off both their website and Twitter feeds. We assume this is due to the chain jumping the gun on the listings.