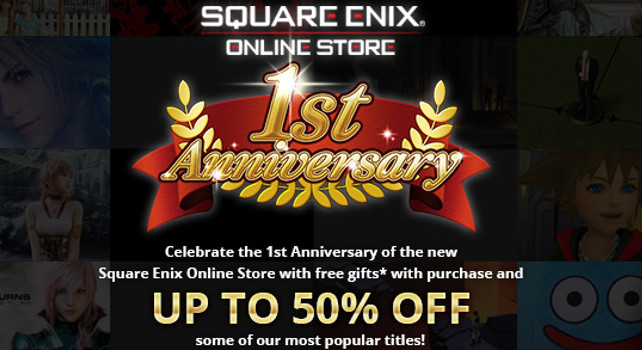 SALE! That's the buzz word that everyone likes to hear. And for those of us who miss the launch of a game for one reason or another, that magic word can be the difference between missing out on a game or taking the plunge late.
Better late than never!
Square Enix is celebrating one year of their online store with a huge sale. A great many of their games are on sale, with some great deals to be had. Quite a few games are 50% off, with a ton of recent and older games included.
The sale runs until February 21st.
Take a look at some of the titles included. I've only included the Nintendo titles, which is what my main interest is. Check the link below for the full list of titles, which also includes PS2, PS3, PS4, Xbox 360, Xbox One, PSP, PS Vita, and PC.
FINAL FANTASY® CRYSTAL CHRONICLES: RING OF FATES [DS] $39.99 $19.99
THEATRHYTHM FINAL FANTASY® [3DS] $29.99 $14.99
DRAGON QUEST V: HAND OF THE HEAVENLY BRIDE [DS] $39.99 $19.99
DRAGON QUEST IV: CHAPTERS OF THE CHOSEN [DS] $29.99 $14.99
FINAL FANTASY III [DS] $19.99 $9.99
SALE 50% OFF FINAL FANTASY IV [DS]FINAL FANTASY IV [DS] $19.99 $9.99
KINGDOM HEARTS 358 / 2 DAYS [DS] $24.99 $12.49
DEUS EX: HUMAN REVOLUTION – DIRECTOR'S CUT [WII U] $39.99 $19.99
Source: Square Enix Online Store