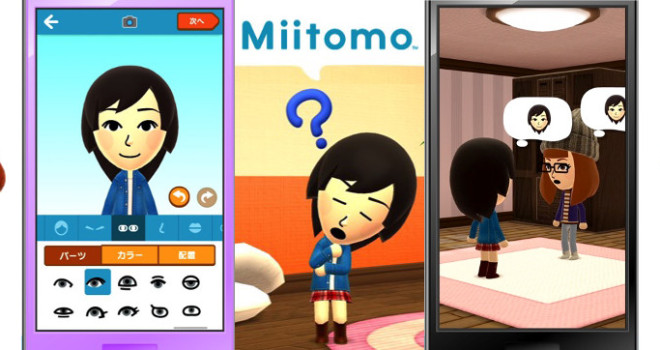 If you've been anywhere near a mobile device or any social media platform over the last few days you've no doubt started to see Miis popping up in your feed. Maybe you don't even know what a Mii is, but they're there. And it's thanks to the latest craze from Nintendo.
Nintendo released their first ever mobile app for a non-Nintendo platform in North America on Thursday morning. Miitomo can best be described as a free-to-start social experience. In the app users spark one-of-a-kind conversations with friends in a whole new way using Mii characters. After you create your Mii character you're ready to go. You can also import your existing Mii from your Nintendo account if you connect the accounts.
Once your Mii is ready, you can add friends who already have the app in person, or by linking the app with their Facebook or Twitter accounts. After that step is complete, it's time to answer some questions, which at this point is the core of the game.
Really it's hard to call it a game at this point, but I like it better than referring to it as an app.
Miitomo creates conversations and turns discussions into a form of play by prompting you to answer all kinds of questions. How would you define your fashion style? What's the weirdest thing you've ever eaten? If you were given ten grand to spend in one day, what would you do? The answers then get shared among your friends. When your Mii tells of your friends answers, you can like their answer by giving them a "heart" or comment on their answer with text or with a picture.
Miitomo is almost like a social media platform, but without direct interaction. It's like lurking on your friends, but they all know that you're there.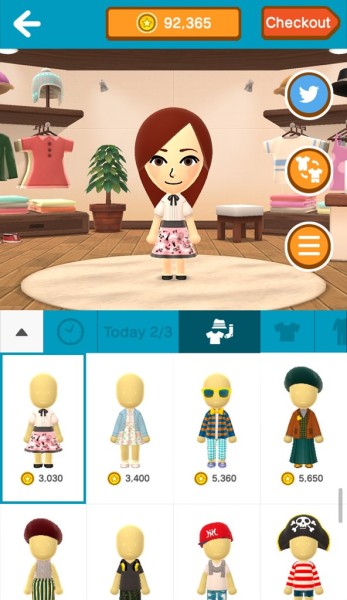 I'm surprised that Nintendo hasn't tried to censor the app at this point. Especially since what you type in is spoken through the game's speech program. You can hear everything that is typed in, which is part of the charm of the game. While it's hard to censor Miitomo when the app lets you type anything you want, I'm sure that Nintendo will start to block out some words from being used.
I really hope that they don't do this though. The game is meant to be between friends and making it any less fun will hurt the success of Miitomo.
Aside from answering questions and seeing what your friends answered, you can also dress up your Mii by buying various items in the shop. There are dozens of different items including hats, shirts, pants, socks, shoes, and also full outfits. These take in game coins to purchase, which you can earn by answering some questions, commenting on other answers and also reading some of your friends answers. They don't add up very fast, though you can earn some cash with daily sign-in bonuses.
There is also a pachinko style game called Miitomo Drop where you drop your Mii from the top of the pachinko board and try to land on certain platforms. You can with exclusive gear for your Mii in this way as well as candy, which can be used to select and listen to specific answers from your friends. Each play on Miitomo Drop costs you either 500 coins or one game ticket.
And since this is a mobile app you can also spend real world money to top up on coins too. Coin purchases range from $1.39 – $104.99 CAD per item if you want to go that route.
In addition to the in game cash, you can also earn Platinum Points for My Nintendo by playing the game. You can earn points for changing your outfit daily, receiving hearts and comments on your answers, as well as answering a few questions yourself each day. You can then redeem these points at My Nintendo for Miitomo items, discounts on some eShop downloads, and even currently an exclusive My Nintendo game for the 3DS.
Perhaps the most enjoyable feature of the game so far is Miifoto, which allows you to dress, pose, and express your Mii and put them in front of pre-installed backgrounds or even in your own photos. You can also add stickers, text, and speech bubbles to the Miifoto and share them. I've had a ton of fun with this feature so far.
One thing that I am super excited for, and cautiously hopeful for, is an expanded assortment of Nintendo themed gear and clothing in Miitomo. And I don't mean things like the Mario hat and outfit that are currently available. I'm looking for clothes and gear based off other Nintendo properties that mimic what Nintndo might actually license for sale in store. T-shirts with Nintendo designs would be great, especially based off Splatoon. Splatoon has its own huge assortment of unique in game gear that would be right at home on Mii characters as well.
It could also be another tool for marketing upcoming 3DS and Wii U games.
The app has been successful for Nintendo in both Japan and now North America, where it has surpassed one million downloads in Japan and is in the 500,000 – 1,000,000 download range on Google Play over here. If you haven't already downloaded this free-to-start Nintendo mobile game then head get on it. And add me while you're at it!