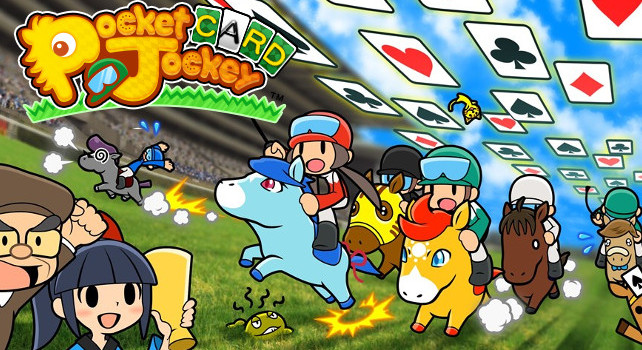 Pocket Card Jockey – 3, 2, 1 … GO! In this fast-paced mashup of solitaire and horse racing developed by GAME FREAK inc., you'll jockey your way to victory by clearing cards to energize your horse. You can even level up your noble steed through strategic positioning on the track. Can you master solitaire and horseback racing at the same time?

Super Punch-Out!! – Featuring the tight gameplay and humor the series is known for, this Super NES sequel to the NES classic sees Little Mac returning to the ring with the World Video Boxing Association belt once again at stake. Slug your way through grueling, sweat-pounding matches against a cast of characters with unique patterns (and even more unique looks). [ New Nintendo 3DS systems only ]

The Beggar's Ride – One night an old man found a mysterious mask; a key to a world hidden on the other side of the rain. It was destined for a hero, a champion, a saviour, but the old man was just a beggar. Uncover the secrets held within the mask as you journey through strange and beautiful lands wielding god like powers over the world around you and discover the truth behind who The Beggar really is! The Beggar's Ride is a unique and innovative Platform Puzzle Adventure Game where the player can manipulate the environment to solve puzzles in a deep and intriguing story of discovery.
Midnight 2 – Midnight has returned! In this golf-like puzzle game your task is to guide Midnight once again! Use your Wii U™ GamePad to set the strength of shot and launch her. Avoid the dangerous enemies, spikes and saws and try to reach the best rating possible. 28 unlockable level make this adventure a challenging journey.
Also New this Week

Style Savvy – Show off your style as the owner of a chic boutique in the original Style Savvy game for the Nintendo DS system. Dream up dazzling outfits for yourself and your customers, purchase inventory to stock your store and monitor your shopping budget, and extend your fashion makeover by visiting the hair salon and the cosmetics store. The fabulous possibilities are nearly endless.
NEW DLC
Fire Emblem Fates – Map Pack 2 DLC – Across dimensions, other versions of the Hoshidan and Nohrian children are under attack. Born and raised in the Deeprealms, these fledgling warriors must now rise up to save themselves and their parents as they unravel the mystery of their adversaries. In this six-map series for the Fire Emblem Fates: Birthright and Fire Emblem Fates: Conquest games, units leveled up in the main game cannot lend support. Devise a strategy using a fresh team and reap the rewards, but only if all of your units survive. You can receive all six maps as they are released by purchasing Map Pack 2 for only $7.99.
Fire Emblem Fates – New DLC Maps: In Endless Dreams – The In Endless Dreams map, available for $0.49, Kana, lost and alone, must find allies quickly. In Endless Dreams is Part 1 of Heirs of Fate.