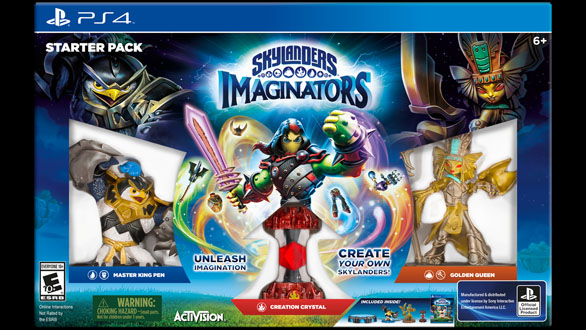 Skylanders has kept quite fresh over the sixth year we're going into. This latest installment, Skylanders Imaginators, is no exception. Toys For Bob who brought gamers the original Skylanders release is behind the helm on this one. The big gimmick this time is an item called Creation Crystals. With one for each of the ten elements, and the base game including a fire element Creation Crystal, gamers will be be able to design their own in game Skylander for the first time.
From what we've seen in the trailer below there are a TON of parts to use to build your own creation. New Sensei Skylanders are also included now. No details have been released on them yet that we've noticed, but the base game does come with Master King Pen, a large penguin Skylander. Also surprisingly there will be villain figures this time! The base game itself includes the Golden Queen who was introduced in Trap Team.
Kotaku noted from an interview that customization is huge. "Body parts, costume pieces, colors, special effects, weapon types, catchphrases, voice type and pitch, abilities, special moves—it's a ridiculously deep system," Mike Fahey noted. He also mentioned that the reason behind this new gimmick is that Kaos has come into posession of Mind Magic, the tool originally used to create the Skylands by an ancient race. Naturally Kaos is using this power to create an army of aptly named Doomlanders to take on the world.
What will this mean for game play? The original game featured players fighting off against Kaos controlled dark Skylanders in boss battles. Does this mean the game will draw upon this rich creation system to randomize enemies gamers will be fighting as well? Those possibilities are especially intriguing.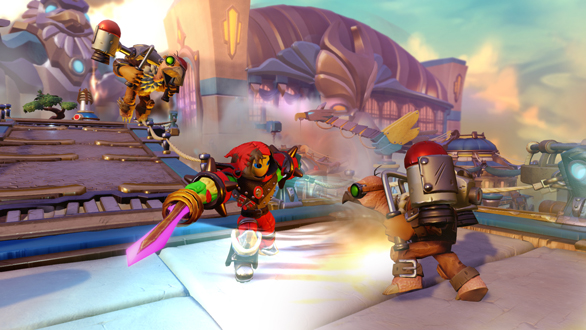 The NFC figure market has been struggling lately. Skylander Superchargers unfortunately underperformed despite being unique in adding racing and different types of levels that went beyond the typical element inspired content. Size change content especially played an interesting role in Superchargers, so I'll be curious to see if any of that returns. Many factors could have played into this slump however. Canada especially has been heavy hit this past Skylanders generation because of the falling Canadian dollar. Figures at times were much higher priced than the audience was accustomed to and with Superchargers being the fifth version, that may have deterred parents.
Regardless of all those details Toys For Bob is making a strong comeback. This is certainly a huge option for fans to explore in creating their own Skylanders. One thing the series needs more of is content to keep players busy through the waves of figures released in that games cycle. It will be interesting to see what the game has in store this time to hopefully add more interest to keep players involved.