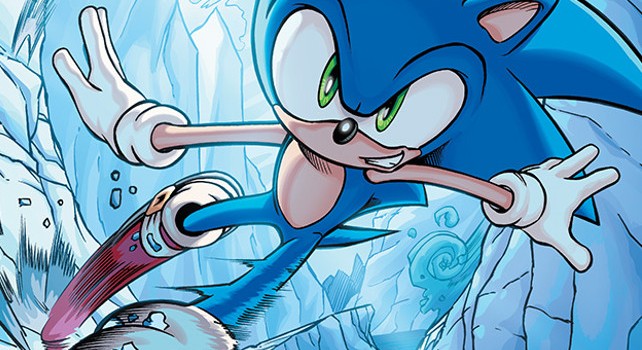 SONIC THE HEDGEHOG #283

SONIC and the FREEDOM FIGHTERS are GO in "The Mission": Sonic and Sally put out the call to the world!  They have the Chaos Emeralds, they have the Gaia Keys, and now they have a plan!  And the central hero to it all is… Cream?!  Then, in "Zero Hour," Dr. Eggman finally tracks down Phage!  And when Tails Doll gives the mad doctor some crucial info, will Sonic's plans for saving the world fall apart? Featuring cover art by the delightful Diana Skelly and a "GUARDIANS" variant cover by the amazing Adam Bryce Thomas!
Script: Ian Flynn
Art: Jamal Peppers, Jennifer Hernandez, Terry Austin, John Workman & Gabriel Cassata
Cover: Diana Skelly
Variant Cover: Adam Bryce Thomas, Gary Martin & Gabriel Cassata
On Sale Date: 6/29
32-page, full color comic
$3.99 U.S.
The book will go on sale on Wednesday, June 29th, 2016!
SONIC/MEGA MAN: WORLDS UNITE VOL. 1 – DEADLY FUSION TP

The sequel to the record-shattering Sonic the Hedgehog and Mega Man crossover is here! You saw what happened when "Worlds Collide," now brace yourself for when WORLDS UNITE! Dark forces have come together in the far future! The vicious conqueror, Sigma, has cheated death again and escaped the justice of X and the Maverick Hunters. He's crossed space and time to join forces with Zavok and the malicious Deadly Six of Lost Hex! Sonic and Mega Man could save us-but they've gone missing! Now the Freedom Fighters of Sonic's world and the Robot Masters of Mega Man's world must take up the fight to save their heroes and stop the coming tide of darkness! WORLDS UNITE features guest appearances by the cast of SONIC BOOM, MEGA MAN X and some of CAPCOM and SEGA's biggest stars! This volume collects WORLDS UNITE parts 1-4 from Sonic Universe #76, Sonic Boom #8, Sonic the Hedgehog #273, Mega Man #50 and selections from Mega Man: Worlds Unite Battles #1 and Sonic: Worlds Unite Battles #1.
Script: Ian Flynn, various
Art: Dan Schoening, Tracy Yardley, Ben Bates, Jamal Peppers, Terry Austin, Phyllis Novin
Jack Morelli, Rachel Deering, Matt Herms, Luis Antonio Delgado & Ben Hunzeker
Cover: Patrick "Spaz" Spaziante
978-1-62738-998-3
$14.99/$16.99 CAN
6 5/8 x 10 3/16″
TR
136 pp, Full Color
The book will go on sale on Wednesday, June 29th, 2016!