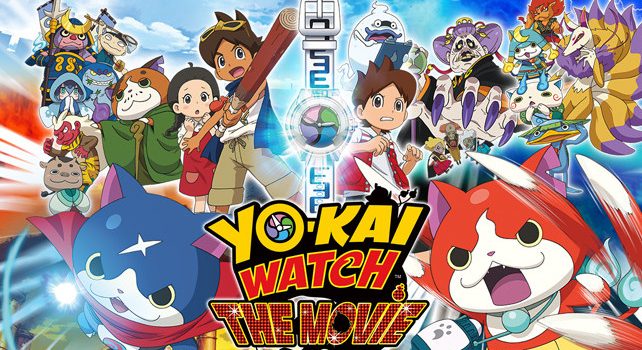 If you weren't aware the newest Yo-Kai Watch game was released last week. The sequel, fleshed out in a pair of games Yo-Kai Watch 2: Bony Spirits and Yo-Kai Watch 2: Fleshy Souls, are the latest property released in the every growing Yo-Kai Watch series. Now there is a movie on the way as well, which will be released in very limited release.
Yo-Kai Watch: The Movie, the first English-language film based on the Yo-Kai Watch, will be in select theatres in for one day only, and only in the United States. The film will be released in a limited engagement on Saturday, October 15th.
The film, based on the hit show which airs in Canada on Teletoon, follows Nate Adams and his Yo-kai friends, Whisper and Jibanyan, as they're transported to the past to help Nate's grandfather, Nathaniel, battle evil Yo-kai and invent the Yo-kai Watch. The film also introduces a new Yo-kai — Hovernyan, a floating blue cat who is Nathaniel's heroic companion.
In its initial release in Japan, Yo-Kai Watch: The Movie was so popular that it set a box office record for advance ticket sales and was the highest-grossing Japanese film in 2015. For this special cinema event, the film will be released in 300 select movie theaters in North America for one day only, in partnership with ELEVEN ARTS and Fathom Events. attendees will also have a chance to receive a limited-edition Hovernyan YO-MOTION YO-KAI MEDAL, while supplies last.
It's a shame that this event isn't also being held in Canada. No word on when the film will see a home video, on demand, or streaming release.