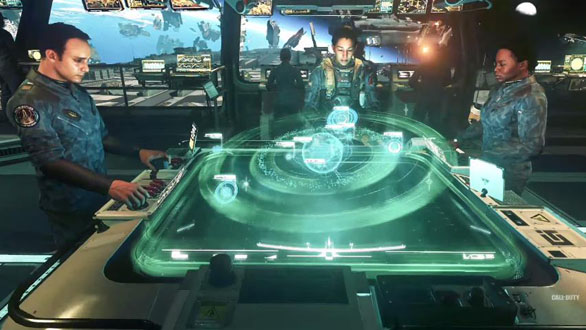 Whether or not you approve of the direction the latest Call Of Duty game, it's certainly an innovation on the franchise! I went into a local game store recently to chat it up with my usual friends and they all looked exhausted. One of them explained they were tired because of Call of Duty. I assumed they meant because of the midnight launch. Instead it turned out they've just been all so into it!
I couldn't resist. After all, the E3 trailer that stunned everyone when it was revealed to be Call of Duty certainly looked like a wild ride. It certainly is! Sure, everyone is used to the cinematic action of the franchise, but it's the gameplay that really brings things up a notch this time around. You're flying in dogfights that take place in outer space, drifting along between asteroids while tethering enemies with a zip line, and infiltrating huge star ships from the outside!
For everything the game does, it's worth looking into even if you don't play Call Of Duty titles. It has familiar moments early on, but quickly you're presented with fast and furious missions that stick around just long enough to thrill you and not become repetitive. I personally haven't played much of the franchise in full, but I did get into last years Black Ops III. It felt like a traditional COD game that would keep fans happy. Considering how huge the brand is, it's stunning to see Infinity Ward taking such a risk. Especially with the early backlash to the trailer being horribly negative. I have to admit, even I was confused when I first saw it.
Really what makes Infinite Warfare such a treat is that it's familiar yet different. It's top notch action with fresh innovation and characters that you'll come to like even if they don't grab you immediately in the previews. I get what fans have said and I do hope that hardcore buffs are finding something to enjoy in this release, but if Infinite Warfare became it's own thing and allowed COD to continue along it's traditional path I'd be glad to jump on that bandwagon. Call Of Duty fans deserve what they love, but there is something to be said about this latest release on it's own merit.
Stay tuned for our full review of Call Of Duty: Infinite Warfare for even more details.