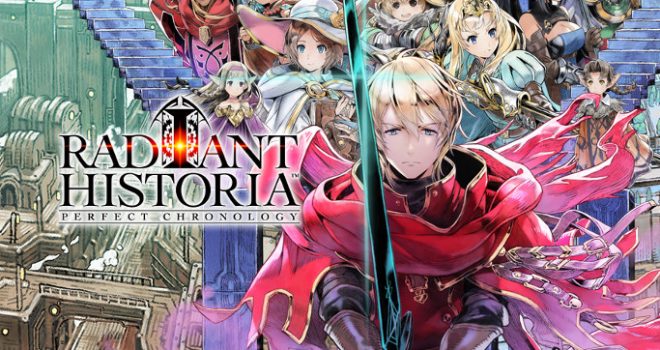 Atlus' upcoming game Radiant Historia: Perfect Chronology is just over a week away and Atlus has detailed the upcoming DLC for the game. Not only that but a free 3DS theme has also been released as a companion to the game, which is already available.
For those who can't wait for the February 13th North American release date to arrive, you can also download the Radiant Historia: Perfect Chronology demo today in the Nintendo eShop! You can get familiar with the story and the game's mechanics, then transfer your save file when the game launches.
There is a variety of different DLC coming up for the game, including a variety of character art, consumable items, and more as DLC starting on launch day.
February 13 (Launch Day)
Growth Ring ($1.99): Consumable item. Gain additional EXP.
Mole Armlet ($1.99): Consumable item. Gain additional money.
New Difficulty: DEADLY (Free): Unlock "Near Death" difficulty.
Chibi Art Pack ($2.49): Switch main character art to Chibi art.
Classic Art Pack ($2.49): Switch main character art to original version's.
Bathing in Mana ($3.99): Fan service event. Each character will show up ready for a swim. Plus an additional boss battle.
February 20
Rage of the Fallen ($2.49): Rescue Aht and Marco in New Granorg in different timeline.
Under the Moonlight ($2.49): Investigate information leak with Eruca and Rainey in New Granorg in different timeline.
February 27
Settling the Score ($2.49): Investigate the distortion in time with Rosch and Gafka in different timeline. Fight against seven bosses in sequence.
Meeting in the Chasm ($2.49): Explore the hidden past of Nemesia.
Hunting Corridor (2.99): A dungeon that you can find an item to boost up your character parameters.
Radiant Historia: Perfect Chronology is an enhanced retelling of the original where you'll once again take the reins of Alistel operative Stocke as he unlocks the power of the White Chronicle relic and gains the ability to travel between two alternate timelines. With his new-found powers, Stocke will need to right the wrongs of the past in order to prevent the total annihilation of the world.
This time though, things are a bit different.
Redesigned character art, new character voice-overs, a brand-new opening animation by A-1 Pictures, new theme song, event illustrations, five new tracks from original composer Yoko Shimomura, and additional difficulty settings will enhance the experience in this fresh take of a beloved story.
Stocke will now encounter a mysterious new character named Nemesia who will teach him more about his world's history and unlock a third timeline to explore the ripple effect of some of his actions with episodic "what-if" scenarios. If you're a Radiant Historia purist who simply wants to play through the original game's story, we have you covered! Perfect Chronology offers two different modes: Append and Perfect. Append mode allows you to beat the original game before having the option to start a NewGame+ with the added content, while Perfect mode lets you play through the game with the inclusion of the third timeline from the beginning.
Radiant Historia: Perfect Chronology will be released on February 13th.