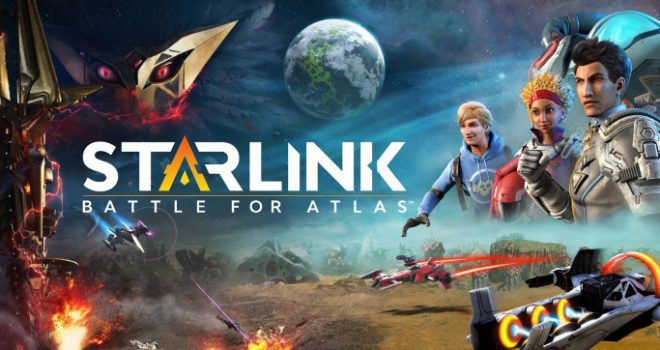 Today, Ubisoft announced Starlink: Battle for Atlas, an all-new action-adventure game developed by Ubisoft Toronto, launching worldwide on October 16th for Nintendo Switch, PlayStation 4, and Xbox One. This deep, open-world space saga features Smart Building Technology empowering players to assemble and customize real-world physical starships. Each part attached to the starship appears instantly in-game and players can experiment with different pilot abilities, weapon types, and status effects and unleash devastating combos upon their enemies.
"We're thrilled to introduce Starlink: Battle for Atlas, the first new property created from the ground up at Ubisoft Toronto. We wanted to combine our love for collectibles with an epic, open-world space adventure to create a brand new experience for audiences of all ages," shared Matt Rose, producer, Ubisoft. "Our team created both a tech breakthrough and a new way to adapt the game on the fly to take on any challenge. We can't wait to see the combinations players will come up with and the creative solutions they discover while exploring Atlas."
In Starlink: Battle for Atlas there are multiple ways for the player to achieve their objectives. Through experimentation, creativity and customization players will discover which playstyle works for them, and the open-world gameplay gives the freedom to choose where to travel and which alliances to form. Players may also choose to build their collection physically or digitally, and every piece is compatible with each other.
The Nintendo Switch edition of the game will include legendary Nintendo character Fox McCloud both in game as well as as a figure in the box. The Nintendo edition will also include a Joycon Mount and an Arwing Starship.
Built from the ground up in the Snowdrop engine, the game allows seamless travel through and around, the exotic alien worlds of the Atlas Star System, teeming with life and unique challenges. Players' actions and creative choices will impact their journey and no two player experiences will be alike. Every choice has an impact on the player's journey and enemies will react and fight back intelligently – taking over the star system if the player does nothing to stop them. The fate of Atlas rests in your hands.