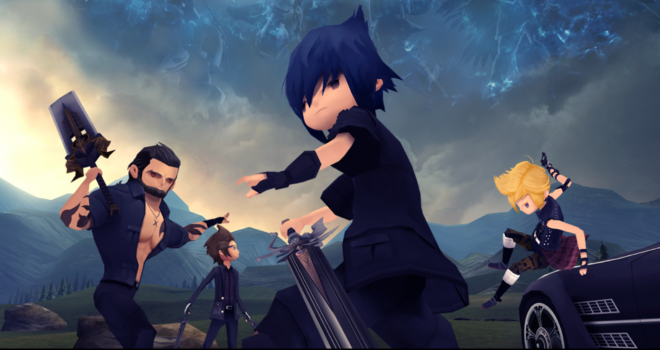 FINAL FANTASY XV POCKET EDITION HD, the re-imagined FINAL FANTASY XV experience featuring an adorable art style and casual controls, is now available for the Xbox One and PlayStation 4 and will be available soon for Nintendo Switch.
Originally released on iOS, Android and Windows 10 devices, this retelling of the critically-acclaimed FINAL FANTASY XV, which has surpassed 8.1 million shipments and digital sales worldwide to date, is now tailored for consoles. To commemorate the release, those who purchase any of the Xbox One or PlayStation 4 versions from today through September 13th will also receive a discount of up to 40%, with the same limited-time offer available for the Nintendo Switch version at launch.
In FINAL FANTASY XV POCKET EDITION HD, fans and newcomers alike can follow the journey of crown prince Noctis and his brothers in arms, Prompto, Ignis and Gladiolus, with fully voiced key event scenes and faithfully recreated battles. All of the treasured moments from FINAL FANTASY XV, like driving the Regalia across breathtaking landscapes, camping, Chocobo™ riding and more, can be experienced in a whole new way with the game's creatively reimagined art style and in HD resolution.
FINAL FANTASY XV POCKET EDITION is also available for iPhones and iPads running on iOS 11.1 or later, select Android devices running on Android 5.0 or later, UWP (Windows 10).