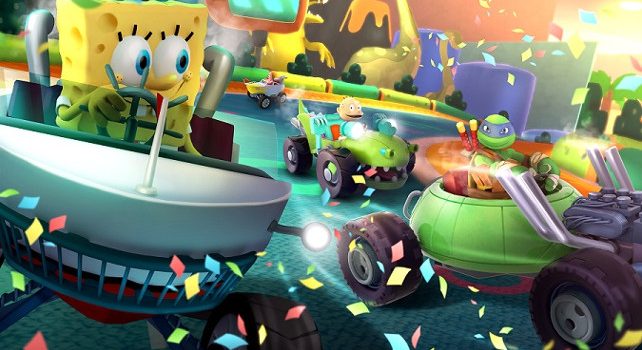 GameMill Entertainment today shared a first look at the features coming to their newest title Nickelodeon Kart Racers, a multi-player console racing game that features Nickelodeon animated characters from SpongeBob SquarePants, Teenage Mutant Ninja Turtles, Rugrats, Hey Arnold! and more, as they race on 24 different Slime-themed tracks.
The game is rated E for Everyone and will be available on PlayStation 4, Xbox One, and Nintendo Switch worldwide for holiday 2018.
The Nickelodeon green slime, which made its debut in 1979, plays a critical role on the race track. Players will fill their slime bar by driving over the fluorescent green goo to activate speed boosts. Slime patches come in many shapes and sizes and do not come without risk; it is very slippery, so watch out! Other patches are so big, your kart will transform into a jet ski! If you're lucky, you might just unlock a shortcut. Thanks to the slime valve and item boxes, you never know when your favorite Nickelodeon character might get slimed!
In the game you can choose a racer from 12 of the most iconic characters from SpongeBob SquarePants, Teenage Mutant Ninja Turtles, Hey Arnold!, Rugrats and more. There are 24 different Slimed-filled tracks including Bikini Bottom, NYC sewers, Tommy Pickle's house, Arnold's school and more. The game will feature Co-Op and Local Multi-Player play. Karts are customizable with multiple power-ups and special attacks. Slime overload will have you turning you Karts into jet-ski racers.