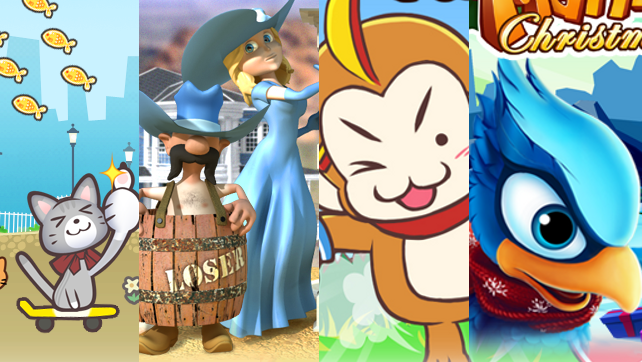 Teyon, a video game developer and digital publisher, is reducing the prices of their games on Nintendo Switch, Nintendo 3DS, Wii U, and PlayStation 4 in North America for the holidays. Starting this week all titles will get a massive drop up to 76% in the digital stores across various platforms.
We've reviewed a handful of their 3DS titles. You can click on the highlighted game titles below to check out our reviews.
Check out the full list of Teyon's discounted titles below.
Steam (December 20th – January 3rd)
Nintendo Switch (December 20th – January 3rd)
Tallowmere: NOW $/€3.49 (was $/€6.99)
Nintendo 3DS (December 20th – January 3rd)
Steel Empire: NOW $9.99 (was $29.99)
Robot Rescue 3D: NOW $1.49 (was $2.99)
Heavy Fire: Special Operations 3D: NOW $2.49 (was $4.99)
Heavy Fire: Black Arms 3D: NOW $2.49 (was $4.99)
Crazy Chicken: Pirates 3D: NOW $0.99 (was €1.99)
Skater Cat: NOW $2.49 (was $4.99)
Cube Tactics: NOW $2.49 (was $4.99)
Governor of Poker: NOW $2.49 (was $4.99)
Groove Heaven: NOW $1.99 (was $3.99)
Banana Bliss: Jungles Puzzles: NOW $1.99 (was $3.99)
Excave: NOW $2.49 (was $4.99)
Chat-A-Lot: NOW $3.99 (was $7.99)
Bird Mania 3D: NOW $0.79 (was $0.99)
Bird Mania Christmas 3D: NOW $0.79 (was $0.99)
Ocean Runner: NOW $1.49 (was $2.99)
Crazy Chicken: Director's Cut 3D: NOW $0.79 (was $0.99)
Outdoor's Unleashed: Africa 3D: NOW $1.99 (was $3.99)
Doll Fashion Atelier: NOW $2.49 (was $4.99)
Mini Golf Resort:  NOW $2.49 (was $4.99)
Wii U (December 20th – January 3rd)
Zombie Defense: NOW $3.99 (was $7.99)
Bird Mania Party: NOW $0.99 (was $1.99)