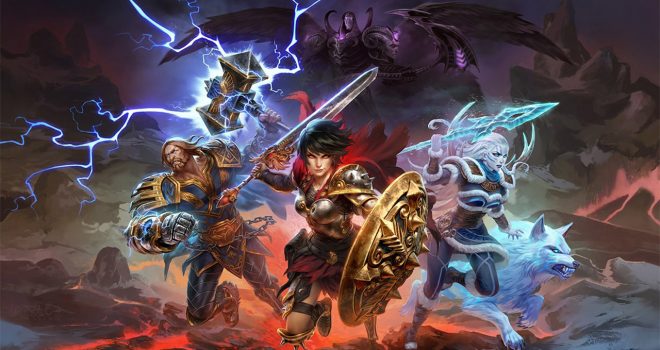 SMITE – The SMITE game offers a multiplayer online battle arena that puts the power of the Gods in your hands, with an ever-expanding roster, new events, variety of skins and biweekly updates. Jump into the action as one of more than 90 Gods from Pantheons around the world. Play as iconic figures like Ares, Thor, Hercules, Wukong and Medusa. Purchase the SMITE Founder's Pack to get bonus loot as well as access to the closed beta.
Pikuniku – Pikuniku is an absurd puzzle-exploration game that takes place in a strange but playful world where not everything is as happy as it seems. Help peculiar characters overcome struggles, uncover a deep state conspiracy and start a fun little revolution in this delightful dystopian adventure.
Unruly Heroes – The sacred scroll preserving harmony in our world has been torn up and scattered in the winds. Now, strange and terrifying creatures are sowing discord and chaos throughout the land. Inspired by the Chinese novel Journey to the West, the Unruly Heroesgame is the adventure of four totally opposed, implausible heroes who must collect all the scroll fragments and travel to fantastical worlds to restore balance … or die trying.
Goat Simulator: The GOATY – The Goat Simulator: The GOATY game is the latest in goat simulation technology, bringing next-gen goat simulation to YOU. You no longer have to fantasize about being a goat – your dreams have finally come true. Goat Simulator: The GOATY is all about causing as much destruction as you possibly can as a goat. Destroy things with style and you'll earn even more points.
When Ski Lifts Go Wrong – Start in the rolling foothills and journey up to the jagged and exposed peaks. Puzzle over carefully designed scenarios to help every passenger reach their destination. Construct various facilities and infrastructures such as chairlifts, gondolas, jumps, bridges and ramps to guide the riders across more than 100 hazardous levels.
Also New this Week

Azure Snake – Azure Snake is a beautiful snake in the world of light.
Dragon's Wrath – Dragon's Wrath is 3D side-scroller game, designed in a unique papercraft model style. You play Dragonio, the last of his kind whose family treasures have been stolen by a rogue group of medieval bandits. You must hunt them down and recover your inheritance before they escape with it forever.
Phasmophobia: Hall of Specters 3D – In Phasmophobia, you will need to navigate throughout the haunted halls to collect all the hidden pages in order to escape. But beware, for each page you collect, the game will increase in speed, and the spirits will be angered. Gather the pages and find the exit!

SMITE – Azure Snake is a beautiful snake in the world of light.
Nintendo eShop sales:
Nintendo eShop on Nintendo Switch, Nintendo 3DS and Wii U
Activities:
Mushroom Kingdom Wallpaper

 – To celebrate the launch of the exciting games 

New Super Mario Bros. U Deluxe

 and 

Mario & Luigi: Bowser's Inside Story + Bowser Jr.'s Journey

, My Nintendo is offering three different wallpapers. Redeem your My Nintendo points** to plaster your computer or smart phone with Mushroom Kingdom heroes. Also, don't forget to take the quiz on the 

Mario & Luigi: Bowser's Inside Story + Bowser Jr.'s Journey

official site to earn My Nintendo Platinum Points**! For more info, visit 

https://my.nintendo.com/news

.

Animal Crossing 2019 Calendar

 – Before you shake that tree, download and print a 2019 calendar inspired by the 

Animal Crossing

 series! Redeem your My Nintendo points** and celebrate the birthdays of your favorite 

Animal Crossing

 characters.