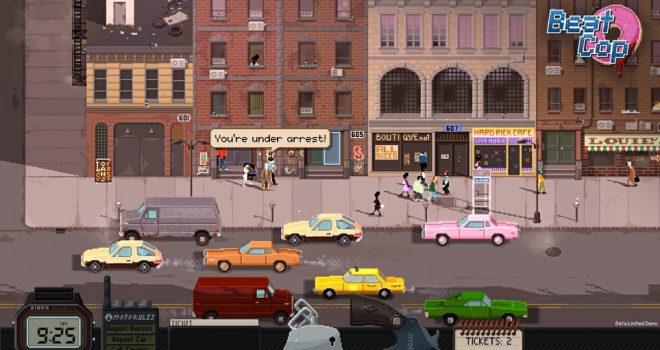 11 bit studios' 80's cop show inspired indie hit, Beat Cop is available now on Nintendo Switch, PlayStation 4, and Xbox One today.
Patrolling the gritty streets of 1980's Brooklyn is no cake walk, and when you're a police officer who has been implicated for a murder you didn't commit, it's even harder. Jack Kelly's on a mission to clear his name in this pixel perfect homage to the cop shows of days gone by, and he can't do it without your help.
Solve puzzling problems on the roughest of streets, help the local community, deal with dangerous mobsters and gangsters, be the good cop or take the odd bribe on the side, and finally, solve the mystery of a murder you've been framed for.
Beat Cop: Console Edition features retro pixel art experience with a non-linear story and multiple endings and is said to be filled with mature humour.
Originally developed for PC by the indie team at Pixel Crow and published by 11 bit studios, Beat Cop: Console Edition has been brought to life by Crunching Koalas.
The game is available for $14.99 USD.