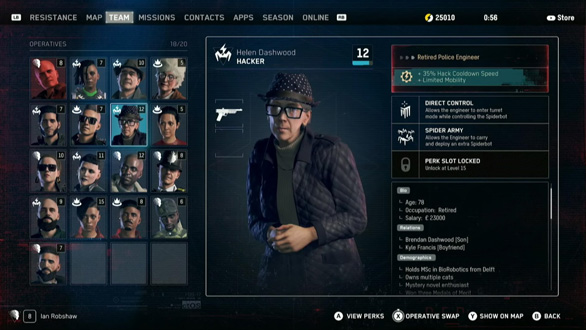 Watch Dogs is a fun series. But how do you make it better? Ubisoft started their presentation of Watch Dogs Legion today showing a new protagonist doing his thing. He angers a flying security drone, drives, away, big chase… We've seen it all before. Big deal. Eh. But… wait. The player has actually been taken down once. What's going on here? They're not doing that good! OH!! They died? During a press conference? Um…
Then it happens. It seems like not only can your character permanently die, you can recruit… ANYONE? That's at least what Ubisoft is claiming. You follow them, talk them into it, and get them to join your DedSec legion! What's more wild, is that the next character we cut to is a 78 year old hacker named Helen. The world is open to you to bring in new talent as you see fit.
This entire concept alone sounds like an awesome time. Tracking down new members and bringing them into your legion sounds like more than just asking people on the street to follow you. Let alone, these people become playable characters you can switch between! The narrative of all this just sounds like a blast! Check it out in the trailer below but we're definitely hyped for our first look at Watch Dogs Legion.
Set in London, England, this is sure to be a triumphant continuation to the series. We have a bit of a wait till March 6th next year, but it definitely looks like it'll be worth it!