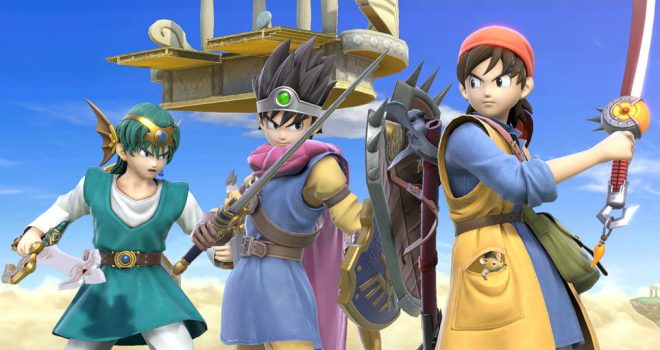 Two new paid downloadable fighters are coming to the Super Smash Bros. Ultimate game.
Hero from the DRAGON QUEST series to be available this summer, and Banjo-Kazooie for this fall. Hero represents the main character from several games in the DRAGON QUEST series. He can take the form of the protagonist from DRAGON QUEST XI: Echoes of an Elusive Age, DRAGON QUEST III: The Seeds of Salvation, DRAGON QUEST IV: Chapters of the Chosen and DRAGON QUEST VIII: Journey of the Cursed King.
Banjo the bear and his bird friend, Kazooie, star in a series of games that began on Nintendo 64. Although Banjo the bear was first introduced in Diddy Kong Racing for Nintendo 64, the kind-hearted character is best known for joining up with his wise-cracking bird sidekick Kazooie in the 1998 Nintendo 64 game Banjo-Kazooie. The beloved pair has remained inseparable since, working together using an arsenal of acrobatic and egg-shooting moves to defeat enemies, overcome obstacles and locate golden puzzle pieces.
No word on exactly when these DLC fighters will be available. The Fighter from Dragon Quest XI will be available in Summer 2019 with Banjo & Kazooie coming Fall 2019.