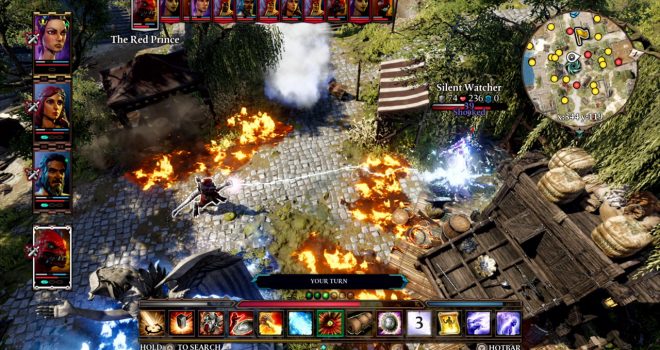 Divinity: Original Sin 2 – This critically beloved and fan-favorite role-playing game is now available on the Nintendo Switch system. With the power of Nintendo Switch, players can slay monsters and unleash magic with up to three other friends* at home or on the go.
Deadly Premonition Origins – The original open-world survival horror game is now on Nintendo Switch. If you've never experienced the cult classic, now you can play it at home, on the go or while drinking coffee in a remote hotel in the woods.
Super Kirby Clash – To defeat bosses this wicked, it'll take a whole team of Kirbys! In this free-to-start multiplayer* action game, you can choose from four unique Roles and join up to three other players to take down tough bosses. Puff up your power by crafting weapons and spending materials at the Shoppe to receive even MORE weapons, not to mention armor and items. Pass a Joy-Con controller to a friend to play locally, and if you have a Nintendo Switch Online membership, you can even play online**.
DAEMON X MACHINA Prologue Demo – This new action-mech game launches on Sept. 13, but players that want to take those powerful mechs for a spin can now try out the free demo version of the game. In the Prologue demo, players will pilot their mechs through the beginning of the game, and all progress earned will carry over to the main game, once purchased. A key feature of the demo is the ability to play in local co-op mode with up to four players (additional accessories may be required for multiplayer mode; sold separately).
NBA 2K20 – NBA 2K has evolved into much more than a basketball simulation. 2K continues to redefine what's possible in sports gaming with the NBA 2K20 game, featuring best-in-class graphics and gameplay, ground-breaking game modes and unparalleled player control and customization. Plus, with its immersive open-world Neighborhood, the NBA 2K20 game is a platform for gamers and ballers to come together and create what's next in basketball culture. The NBA 2K20 game will be available on Sept. 6.
Creature in the Well – The Creature in the Well game is a top-down, pinball-inspired, hack-and-slash dungeon crawler. As the last remaining BOT-C unit, venture deep into a desert mountain to restore power to an ancient facility, haunted by a desperate Creature. Uncover and upgrade powerful gear in order to free the city of Mirage from a deadly sandstorm. The Creature in the Well game will be available on Sept. 6.
Risk of Rain 2 – No run will ever be the same with randomized stages, enemies, bosses and items. Play solo, or team up with up to four friends online** to fight through hordes of monsters, unlock new loot and find a way to escape the planet. Additional survivors, stages, items, enemies and features are still in active development and will be added in multiple free content updates.
Blasphemous – A foul curse has fallen upon the land of Cvstodia and all its inhabitants – it is simply known as The Miracle. Play as The Penitent One, a sole survivor of the massacre of the "Silent Sorrow." Trapped in an endless cycle of death and rebirth, it's down to you to free the world from this terrible fate and reach the origin of your anguish. The Blasphemous game will be available on Sept. 10.
Also New this Week
Nintendo eShop sales:
Nintendo eShop on Nintendo Switch, Nintendo 3DS and Wii U