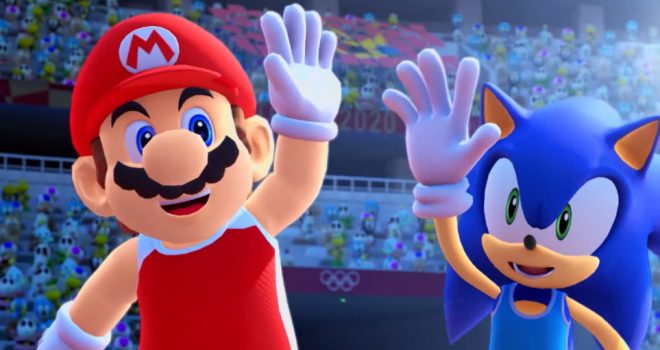 We're just over a month away until the 2020 Olympics. Well, sort of.
On November 5th, you can pit all of Mario's and Sonic's iconic characters against each other in the biggest video game mash-up of 2019, Mario & Sonic at the Olympic Games Tokyo 2020! Take rivalries to the skate park, diving board, archery range, and more with an incredible suite of 3D and 2D events, imaginative Dream events, and an expansive Story Mode.
In the brand new story, help Mario & Sonic escape from a 2D-themed console, the "Tokyo '64," hatched as part of Dr. Eggman's and Bowser's nefarious plans to trap the colorful and capable power pair.
There are more than 30 events to master in this fun-filled Olympic Games showdown, there are plenty of ways to prove your skills to your friends in local and online multiplayer. Dream Events deliver a layer of fantastical chaos. Zip through a downhill obstacle course on your hoverboard, throwdown for territorial control with lightning-fast karate action, or smash the most targets inside a traditional Japanese manor.
Enjoy all the different classic 2D events, perfect for friends and family:
100m
10m Platform (Diving)
400m Hurdles
Gymnastics – Vault
Judo
Kayak Single (K-1) 1000m
Long Jump
Marathon
Shooting – Trap
Volleyball
You will also dash, climb, jump, surf and more in these fast-paced 3D events:
100m
110m Hurdles
4 x 100m Relay
Archery
Badminton
Boxing
Canoe Double (C-2) 1000m
Discus Throw
Equestrian – Jumping
Fencing
Football (Soccer)
Gymnastics – Floor Exercise
Javelin Throw
Karate – Kumite
Rugby Sevens
Skateboarding – Park
Sport Climbing
Surfing – Shortboard
Swimming – 100m Freestyle
Table Tennis
Triple Jump
The fun even goes beyond the limits of reality with all-new Dream Events:
Dream Karate
Dream Racing
Dream Shooting
Mario & Sonic at the Olympic Games Tokyo 2020 will take to the starting blocks exclusively for the Nintendo Switch on November 5th for $79.99 CAD.