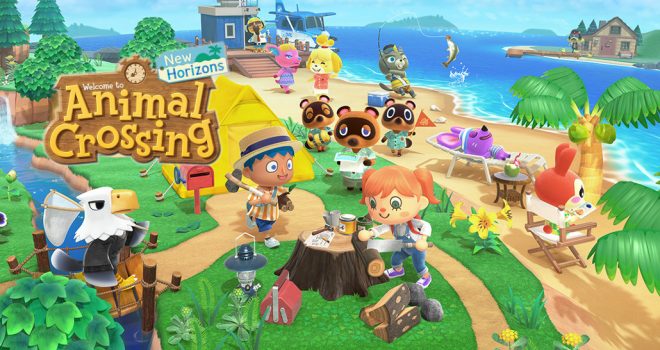 The release of Animal Crossing: New Horizons is right around the corner. Sure, it's technically more than three months away, but with the launch of a television commercial in Japan for the release of the game – things have gotten real.
The new commercial is a brief ad which shows Tom Nook presenting his island getaway package to an auditorium of villagers, including Isabelle. It's a little teaser but it's looking good that the March 20th release date is all but set in stone.
Aside from the commercial itself, the above art is also worth taking a closer look at. It serves as the box art for the Japanese release of the game and also teases a few new characters in the game. First off is the beaver who can be seen with the fishing rod, who bares a striking resemblance to Chip. Chip is the character who judges fishing tournaments in the mainline games and in Pocket Camp. This looks like it could be a younger relative of Chip.
Another new character that can be seen in the distance is a bird – let's call him Skipper. He looks like he's a pilot as he can be seen standing next to an airplane. Perhaps he is the character that will allow you to visit other players' islands? Right off to the right of Skipper is Harvey, who seems to be making another appearance. Harvey made his debut in the Welcome Amiibo update for Animal Crossing: New Leaf.
Hopefully there are a few new villager characters also added to the game. More is always good.
Check out the ad below.