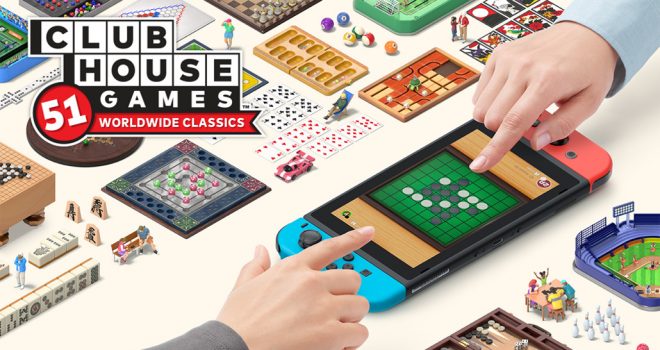 Nintendo released a trailer this morning showing all of the games contained within Clubhouse Games: 51 Worldwide Classics, which arrived on the Nintendo Switch on June 5th.
Tabletop mainstays like Chess and Four-in-a-row and action-oriented games like Toy Boxing and Slot Cars come together on the Nintendo Switch. Also included are a ton of card games like BlackJack, Texas Hold'Em, and multiple varieties of Solitaire. There are also the base games that several popular card and tabletop games are bases on. There's a game that looks a lot like Uno, another that is basically Yahtzee, and another that is the origin of what most people know of as Connect Four. There are a few action based games like Toy Baseball, Toy Boxing, and battle tanks as well.
Also included is bowling, which you can play by swinging the Joy-Con just like the smash hit Wii Sports in the Nintendo Wii days. That's a nice blast from the past.
The game will also feature local multiplayer and online multiplayer as well.
Clubhouse Games: 51 Worldwide Classics is the sequel to the 2005 Nintendo DS title Clubhouse Games. That game was part of the Touch Generations series and included forty games in the package. That game was a mainstay for me during the DS years and was also either in my DS when travelling or in the carrying case with my system. Nintendo later re-released the game in the Nintendo DSi Shop in five smaller packages.
Check out the full video below with a rundown of all of the games included the package.
Clubhouse Games: 51 Worldwide Classics arrives on Nintendo Switch June 5th!