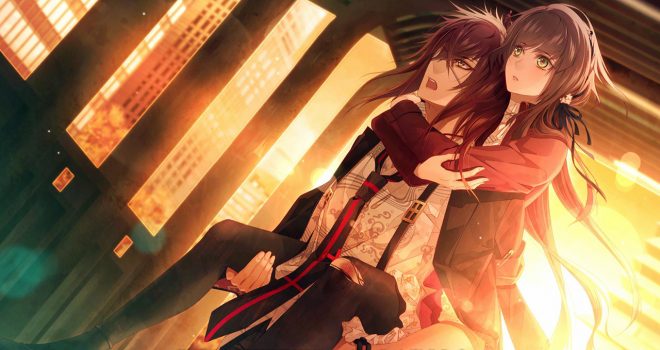 Aksys Games announced a lineup of new games to be showcased at the New Game+ Expo (NGPX) on June 23rd, 2020. New Game+ Expo (NGPX), a collaborative initiative of 14 video game publishers based in North America and Japan.
"We are proud to be participating in this unique grassroots event with so many of our friends and colleagues in the game industry," said Akibo Shieh, founder and CEO of Aksys Games. "Our mission has always been to discover and make unique games more widely available, so we're excited to be in such great company."
Upcoming titles from Aksys Games featured included:
Collar X Malice -Unlimited– (Nintendo Switch/August '20) – The danger has only begun! Return to the thrilling, deadly world of Collar X Malice with exclusive Interlude, After Story, and Adonis play modes. Revisit the characters and events of the original game, as you build new relationships while picking up the pieces in the aftermath of the first X-Day Incident. Then buckle up for an entirely new investigatory experience as you search for traitors hidden deep within the shadowy Adonis organization. Embark on a desperate race against time before the next cataclysmic X-Day arrives! Available for the first time outside of Japan, Collar X Malice -Unlimited- has been rated M for Mature by the ESRB.
Piofiore: Fated Memories (Nintendo Switch/October '20) – Liliana Adoronato was born and raised in the church in the center of the Italian city of Burlone. Three criminal organizations control parts of the city, and Lili discovers that she is literally in the center of their turf wars. Her encounters with the leaders of the Falzone, Visconti, and Lao-Shu Families lead to danger and distraction. Once Lili is drawn into the shadowy world of the mafia, she realizes there is no going back. Piofiore has been rated M for Mature by the ESRB.
Tin & Kuna (Nintendo Switch, PS4, Xbox One, PC/September '20) – When Tin & Kuna accidentally break the Prime Orb of their home world and unleash the darkness locked inside, Tin is transformed, forcing Kuna to embark on a journey to save his friend. Explore colorful, chaotic levels filled with puzzles and peril by rolling and bouncing through the environments and dashing and bashing through blocks. As Kuna overcomes various foes and hazards, he steadily restores balance to the world. But when he reaches the Prime Orb, a new adventure begins! Tin is unlocked as a powerful new playable character, bringing the challenges to a whole new level of difficulty. Players will have to use all their skills and every ability in their arsenal to balance the world. Tin & Kuna has been rated E for Everyone by the ESRB.
Café Enchanté (Nintendo Switch/November '20) – When Kotone inherits her grandfather's Tokyo café, she discovers the shop holds more secrets than anyone could imagine. The café is a meeting spot for beings from multiple, mystical worlds. You'll meet the king of demons, a humanoid beast, a fallen angel, and more. And when government agents monitoring non-human activities show up at your door, your new café is about to become a lot more colorful. Café Enchanté has not yet been rated by the ESRB.
Pretty Princess Party (Nintendo Switch/December '20) – Become a princess and restore your castle to its former glory! Pretty Princess Party allows you to explore a long-abandoned castle, decorating, training, and unlocking hundreds of items. Begin by creating a princess character with endless choices of dresses, shoes, accessories, and hairstyles. Then learn how to be a princess by playing six different fun mini-games, including cake decorating, horse racing, and dancing. Successfully completing the games will open up new outfit choices and allow you to unlock hundreds of unique items to decorate your castle's 20 rooms – over 1,300 items total! Once the rooms are decorated, you can take commemorative photos to show off your royal style! Even after completing the entire magical story, you can take on new challenge objectives to update rooms and photographs. Pretty Princess Party has not yet been rated by the ESRB.