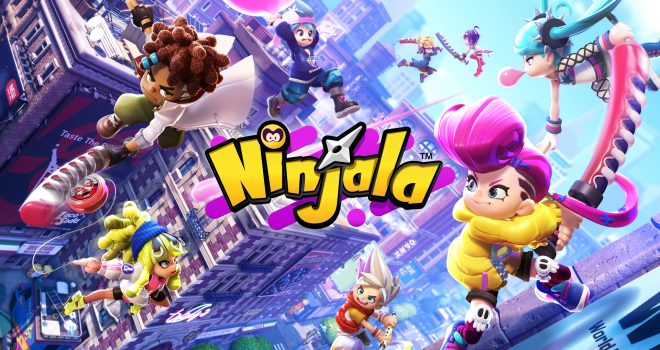 Free-to-play multiplayer action video game Ninjala was released exclusively for the Nintendo Switch on Wednesday. Developed and published by GungHo Online Entertainment, the game was originally unveiled at E3 2018.
Ninjala is a game featuring ninja and gum! Assume the role of a modern-day ninja and take part in the Ninjala tournament. Use Ninja-Gum to blow bubbles that can be tossed at your foes, craft all sorts of weapons, and dash across stages. The appearance and variety of your weapon will vary depending on the type of Ninja-Gum you use.
The game has a pretty cute and chino look to it and feels very familiar. It definitely has some similarity aesthetically to Splatoon, and that's a good thing.
Van is a ninja-in-training, who spends his days carrying out the missions assigned to him by his master. One day as he was going about his duties, he caught wind of a shocking kidnapping incident. Convinced that it was the work of the dastardly space ninja, Van's master tasks him with the duty of rescuing the missing children and returning peace to the city.
Ninjala will have Battle Royale-style matches of up to 8 players where you'll vie for supremacy with ninja around the world. The player who earns the most points over the course of the match will be declared the winner. Score points by defeating your opponents, obtaining items, destroying drones positioned across the stage, and more. Earn extra points by taking down your opponents with an IPPON—impressive finishing techniques.
Join up with friends and take part in a 4-on-4 team battle. Cooperate with your teammates and earn more points than the opposing team to be declared the winner.
A colorful variety of costumes and accessories from an array of unique fashion brands are available. Choose from a wide variety of avatar items which can be combined as you see fit. You can stick to one brand for a consistent look, or mix and match to create a style all your own!
Ninjala is free to start and is available on the eShop now.