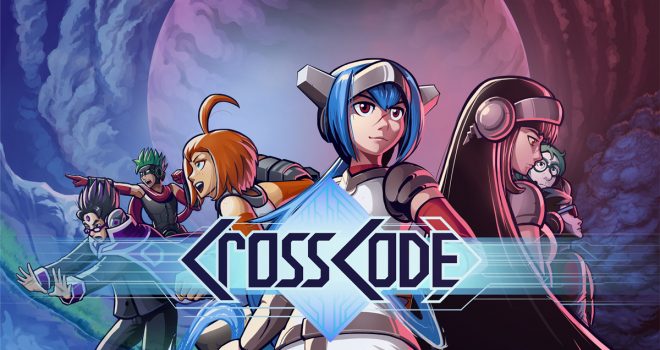 CrossCode – Meet Lea as she logs into an MMO of the distant future. A story about the future of gaming from an unexpected angle, this retro-inspired 2D action-RPG might outright surprise you. CrossCode combines 16-bit Super NES-style graphics with butter-smooth physics, a fast-paced combat system and engaging puzzle mechanics, served with a gripping sci-fi story.

Deadly Premonition 2: A Blessing In Disguise – Serving as both a sequel and prequel to the original Deadly Premonition, follow Agents Davis and Jones as they begin a new investigation into the Le Carré serial murders. Through the memories of a former FBI agent, go back in time to Le Carré and step into the role of Special Agent York to begin unraveling the mystery. Explore Le Carré on foot or via skateboard, interact with its citizens, uncover clues and discover the darker side of this seemingly peaceful town. Deadly Premonition 2: A Blessing In Disguise will be available on July 10.

Bloodstained: Curse of the Moon 2 – Bloodstained: Curse of the Moon 2 brings classic 2D action and a dark, 8-bit aesthetic together with modern playability. Take control of Zangetsu, a swordsman from the far east who bears a deep grudge against demonkind and the alchemists who summoned them. Zangetsu must battle his way to the demonic stronghold, but he doesn't have to do it alone! Zangetsu can ally himself with a new cast of characters he meets along the way and add them to the playable roster. Bloodstained: Curse of the Moon 2 will be available on July 10.

Neon Abyss – Neon Abyss is a frantic, roguelike action-platformer where you run 'n' gun your way into the Abyss as part of the Grim Squad. Featuring unlimited item synergies and a unique dungeon evolution system, each run diversifies the experience and every choice alters the ruleset. With each run, you will be able to unlock new rooms, items, bosses, special rules and even new endings! Neon Abyss will be
Also New this Week:

DUNGEON RUNNER –DUNGEON RUNNER is a platform game in which we will have to flee from monster through a dangerous dungeon . An endless corridor with a colorful visual style where the game will end when we collide and the monster catches us.
Nintendo eShop sales:
Nintendo eShop on Nintendo Switch, Nintendo 3DS and Wii U