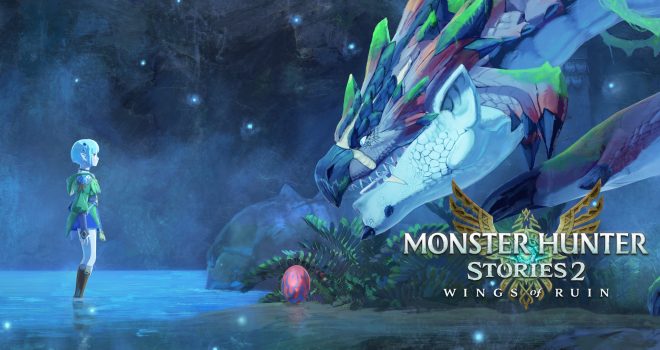 The Monster Hunter series is hitting new heights – literally! – with MONSTER HUNTER RISE, a new entry in the storied series, headed to the Nintendo Switch system on March 26, 2021.
In this new game, players will possess the ability to rise above the world, using special creatures to scale cliffs and vault high above the magnificent terrain around them in Capcom's MONSTER HUNTER RISE.
Another Monster Hunter game announced during the presentation, MONSTER HUNTER STORIES 2: Wings of Ruin, tasks players to become a Monster Rider and embark on an RPG adventure filled with popular monsters from the series.
MONSTER HUNTER RISE
This latest entry in the action-RPG series finds players battling fearsome monsters and reaching new heights. Prepare to be transported to the colorful Kamura Village, a new serene mountain locale where players will experience unique culture and innovative hunting technologies.
Using a special insect called a Wirebug, hunters will be able to grapple themselves in any direction, making it possible to scale towering cliffs and structures. All combat areas within each quest are seamlessly connected, allowing for exploration of the vast and vertical landscapes with no loading times.
MONSTER HUNTER RISE launches for Nintendo Switch on March 26, 2021. Additionally, a Deluxe Edition will also be available, which offers the full game and bonus DLC. Pre-ordering the base or Deluxe version will unlock bonus in-game items like layered armor and more.
Players will be able to get even more in-game extras with Monster Hunter amiibo accessories. The three standalone amiibo accessories will be available exclusively at EB Games in Canada.
MONSTER HUNTER STORIES 2: Wings of Ruin
Currently in development, MONSTER HUNTER STORIES 2: Wings of Ruin puts players in the role of a Monster Rider who befriends iconic monsters from the Monster Hunter series as they embark on epic adventures together. More information about this story-based role-playing game coming to Nintendo Switch in summer 2021 will be revealed in the future.