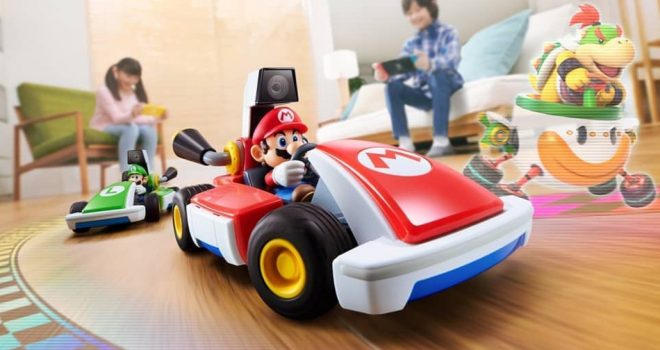 Mario Kart Live: Home Circuit – The fast-paced racing action of the Mario Kart series is speeding into the real world. Using a Nintendo Switch or Nintendo Switch Lite system, you control a physical kart and race it on custom courses you create in your own home. Square off against Bowser Jr. and the Koopalings in eight unique Grand Prix cups. Each race will show off different customizations that you can use on your own course. Bring your imagination to life as your real-world surroundings transform into the ultimate Mario Kart competition. Mario Kart Live: Home Circuit will be available on Oct. 16. (Note: The physical Mario Kart Live: Home Circuit product is required to play the game.)
Röki – Every dark fairytale has its monster. Röki is an adventure game inspired by Scandinavian folklore, underpinned by a touching narrative, an alluring art style, ancient puzzles and atmospheric exploration. Join Tove on a fantastical journey to save her family – a journey that takes her deep into a hidden and long forgotten world of lost folklore filled with strange locations and even stranger creatures. Explore the ancient wilderness, solve its mysteries and save your family in this modern adventure game for all.
The Jackbox Party Pack 7 – Five new incredible party games to liven up any gathering! Check out the say-anything threequel Quiplash 3, the collaborative chaos game The Devils and the Details, the drawing fighting game Champ'd Up, the on-the-spot public-speaking game Talking Points or the pop culture guessing game Blather Round. Play with your phone, tablets or computers. No extra controllers needed!
Also New this Week:
Nintendo eShop sales:
Nintendo eShop on Nintendo Switch, Nintendo 3DS and Wii U